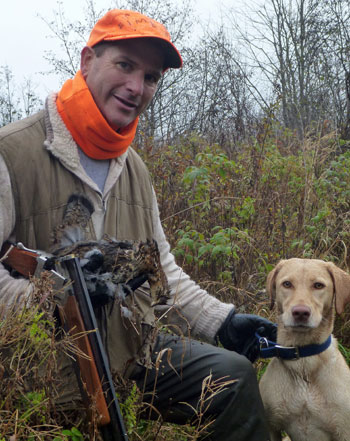 We realize that people bid hunt the way they want to, which may not be the most productive way to do it. That's fine…but that's not for us. We're always looking for every advantage we can get.
So a brief reference in a recent issue of Field & Stream led us to a couple articles (here and here) that really point to only one conclusion, one we had in Serious Grouse Hunting Book 1 though for a different reason.
In the book, we pointed out that more pellets in the air (from higher-gauge shells) equaled a better chance to connect with a bird. Turns out it also means this:
> Pellets are randomly distributed after the shot, so all patterns have gaps in them.
> Generally, the fewer pellets in a load, the more empty spaces your pattern will have….
To us that argues for a 21ga, or at least a 16ga, for any bird. The other F&S article had these insights:
> Hard, round pellets that are launched at lower velocities [pattern] better because less shot is deformed, so they remain in the pattern.
> Use the smallest effective shot size for the game you're hunting. Heavier payloads of smaller shot usually produce fewer gaps.
> Tighten your choke. Ashby prefers to use tight chokes…. "I will give up a few fringe hits to get every bird I deserve when I center a target," he says.
Take that and run with it!
Category: Ammo/shells, Shot sizes