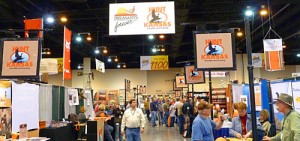 Pheasants/Quail Forever's Pheasant Fest/Quail Classic is coming up soon at KC, MO (see info in right column), and just in case you're thinking it's too far or whatever, here are the Top 10 – really just 10 of many – reasons to go. We're doing it Letterman-style, 10 to 1.
10. What else are you going to do in February in a couple-hundred-mile radius (or farther) of Kansas City?!
9. The world-famous Bob St. Pierre will be there.
8. Dogs, dogs and more dogs. From Bird Dog Alley on the show floor to the Bird Dog Bonanza stage's live seminars, you'll never see so many bird dog breeds (almost 40) in one place! Great!
7. Fun for the whole family. Bring 'em along! (Jay is bringing his 8-year-old daughter.)
6. Stuff! Gear, guns, ammo. What bird hunter doesn't love the all-important "stuff"?!
5. There's time to talk to the folks who developed and sell that stuff, which can be super valuable. You can't mine a magazine ad….
4. It's a bunch o' fun.
3. You can learn more in a day at Pheasant Fest/Quail Classic than you can in a year of reading books. Seriously.
2. They serve Rooster Lager, as in rooster pheasant.
1. You are a Serious bird hunter and NOTHING will hold you back from going to the best upland event of the year bar none.
Category: Pheasant Fest, Pheasants, Pheasants Forever, Quail, Quail Forever