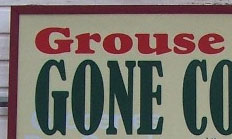 Sounds like ruffed grouse will never be as much a part of the landscape of southern Pennsylvania as they once will. "Never" sounds ominous. Permanent. But that's the conclusion of an article by Bob Frye in the Pittsburgh Tribune-Review.
Why should you care if you don't live or hunt in PA? Reasons:
> Pennsylvania is an iconic grouse state – and is the only state with the ruffie as its state bird. It's been a traditional bastion of bird hunters, but as we all know, when the birds go away, bird hunting also drops, then there's less money for habitat, fewer birds, fewer hunters, etc.
> Forty years ago ruffed grouse hunting was so popular it made regular appearances in Sports Illustrated. What happened? Think about it. Could it happen to other gamebirds in other regions?
Anyhow, some excerpts from the article:
> In the southwest region at large, "you find grouse in fewer places than you used to, and where you do find them, you find fewer of them," said Ian Gregg, game bird section supervisor for the Pennsylvania Game Commission.
> The commission has used volunteer birders to conduct two breeding-bird atlas surveys, one in the 1980s, and one the past few years. In each…they showed the state has far fewer grouse than before, especially across the southern tier.
> "Grouse today are much more concentrated in the northcentral region of the state," Dan Brauning, head of the agency's wildlife diversity section, said.
> In the 1980s, data shows those hunters were flushing 1.7 grouse per hour locally. The past five years, they've flushed just 1.1 per hour. Hunters have averaged 1.7 flushes per hour in the northcentral region and 1.8 per hour in the northwest.
> Comments collected by some of them show that they have a harder time finding grouse now than before, especially in Southwestern Pennsylvania. "Good habitat but no birds," wrote one in his cooperator summary.
> Today there's half as much forest in the southwest [as right after World War II], and half as much early successional woods…. Grouse populations have declined as a result.
> The commission doesn't own or control enough land to create the kind and amount of habitat needed to replicate the glory days, he said.
More
At least a couple longtime grouse hunters in SW PA feel that something else there is affecting the grouse, like a parasite or some sort of insect-borne disease. Hopefully those factors will be considered in the state's new ruffie plan.
Category: PA, Ruffed Grouse