The ruffed grouse is Pennsylvania's state bird, PA has lots of ruffies and the state is home to Ruffed Grouse Society (RGS) HQ. And yet, as in many states, Pennsylvania bird hunters feel that ruffies haven't gotten much attention in Pennsylvania.
Is the state now out to change that?
The state is seeking input on a draft ruffie plan (here's the pdf), highlights of which are below. And PA residents you can now buy a license plate with a ruffie on it, some of the revenue from which goes to the RGS – more on that at bottom.
Highlights from the plan:
> This PA plan supports the 2008 Ruffed Grouse Conservation Plan, a North American plan developed by the Association of Fish and Wildlife Agencies' Resident Game Bird Working Group that provides a comparison of ruffed grouse habitat conditions and populations between 1980 and 2005.
> Forest inventory data were used to ascertain ruffed grouse population deficits between 1980 and 2007. Pennsylvania has lost over 29,000 breeding male grouse in that time. Because grouse population densities are strongly dependent on the proportion of young forests on the landscape, the plan documents the overall annual acreage treatments required to restore grouse populations to near 1980 levels by 2025 – the objective of the national Ruffed Grouse Conservation Plan.
> To support the desired population increase, the PA plan includes a habitat objective of having approximately 2,750,000 acres (1,100,000 ha) of early-successional habitat by spring of 2020. To achieve this objective, this plan calls for increasing the proportion of  PA's forest comprised of young age classes from 11.6% to 17.3%.
> Calvin DuBrock, PA Bureau of Wildlife Management director, said: "As written, the plan is science-based, progressive and promotes responsible management of ruffed grouse. We're interested in hearing from Pennsylvanians who would like to offer comments, and to see if we've missed something or if they share our management vision for the future."
> Public comments on the agency's ruffed grouse management plan will be accepted until Sept. 1, via the website or by mail to: Ruffed Grouse Management Plan, Pennsylvania Game Commission, 2001 Elmerton Avenue, Harrisburg, PA 17110-9797.

More
The plan notes that each year, more than 100,000 hunters harvest 75,000-100,000 ruffed grouse, and that grouse hunting results in the direct spending of $79 million. Even though one grouse per hunter isn't great, or even good, grouse are "of significant social and economic value as a game bird in Pennsylvania."
So we think it's good if PA can adopt this plan and get it done. Cutting to create young forest habitat is definitely important, and will for-sure help baseline numbers of grouse.
Only additions we'd like to see are:
> A consideration of disease, possibly occurring or emerging with changing/warmer weather patterns, particularly in the southern area of the state.
> In a perfect world we'd like to see regs changed to say that you can only shoot a ruffie either a) when it's flying (probably would hit licenses too hard) or b) only with a shotgun, to prevent deer hunters from taking pot shots from treestands.
Grouse Plate
Check out the new RGS grouse plate available to PA residents: Cool! Learn more here (pdf).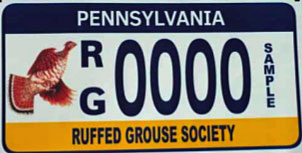 Category: PA, Ruffed Grouse, Ruffed Grouse Society