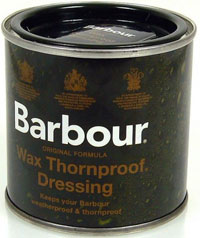 We wear a lot of adventure-type clothes. Stuff made by Patagonia, SmartWool and those kind of manufacturers. Not cheap but works so much better than the vast majority of clothes oriented to hunters, much of which are not for ACTIVE hunters (they're for tree-hangers).
When you're hunting all day actively, you want to wear stuff that's lightweight, comfortable, warm (usually) but not too warm, transports moisture away from your body and, ideally, doesn't smell like a buffalo when the day's done.
And…cotton isn't that, including waxed cotton. That's one reason it's not our thing, plus this, from the Spring 2011 issue of The Upland Almanac:
"…waxed cotton takes some special care….the cotton has to be re-treated with the wax [a few times a year]. This, my friends, should be treated as a walk down memory lane. It can also be viewed as a time to dream."
The article then goes on to note that you need to rub the wax in "briskly" (the whole garment) and then use a hair-dryer to get the wax to melt in.
S'pose if you love cotton, don't mind that it's "old technology" (developed in the 19th century) and have the time to spend on that kind of thing, great. To each his own, we certainly don't begrudge you anything. But there's better out there. Not ideal, but better.
The Wikipedia entry on waxed cotton notes, "Modern uses of waxed cotton have niched to those areas where its greater warmth provide a greater benefit over its cost, weight and maintenance disadvantages."
Greater warmth? No, if anything it has a comparative lack of warmth vs. higher-tech stuff. The cost advantage amazingly isn't that much vs. Gore-Tex.
It does have weight and maintenance disadvantages – to which we'd add a lack of warmth and the fact that it traps moisture.
If you're a waxed cotton fan – and maybe hunt in rubber boots and light your house with whale oil (lol) – get one of the well-made upland Gore-Tex jackets and try it out. None are ideal – since you can't put camo on upland stuff, there's not a ton to choose from – but a few, and only a few, are very good.
You might not feel as "pa'tridge" in it, but hey, you'll get used to that.
One more thang: Any waterproof or "water-resistant" garment requires maintenance. In the case of Gore-Tex, that's machine washing with an additive designed for Gore-Tex and drying it hot. If you hunt hard, you will have to maintain your Gore-Tex in this way more often than you'd have to do with waxed cotton, maybe every two days. But to us, it's a small disadvantage compared to the rest of the advantages.
Category: Clothing, Waxed cotton