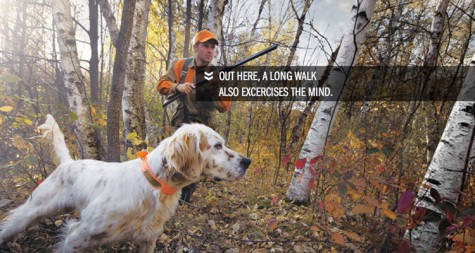 by Jay
Take a look at that image. That's one of the upland-focused images you'll see on Franchi's new-ish website.
Did you get that? "Upland-focused" – that never happens anymore! Upland hunting is treated as the redheaded stepchild of the hunting biz, but not for Franchi, aka Benelli USA.
Not only that, Franchi's new Instinct double guns seem to be good. I shouldered one at Pheasant Fest and liked the balance, feel, clean look/lack of cheap engraving, and the price.
What's going on at Franchi? To find out, I chased down Jens Krogh, Franchi product manager, the guy who's been deeply involved in all of this. Here's our brief Q&A. And btw, Jens is an upland hunter and former competitive shooter, so he has the bona fides.

SBH: The upland market is pretty much ignored by most companies. Why is Franchi focusing on it?
Jens: One of the main reasons we're focusing on it is because it's been ignored by everybody else, and Franchi really cut its teeth on the upland market. We were the first to have a reliable, lightweight, aluminum-framed gun, in 1948 with the 48 AL. Franchi built it's reputation with upland hunters, so the last thing we'd want to do is turn our back on them.
We built our reputation on a lightweight, reliable gun, and that's what we continue to do. We build guns that are lightweight and work, that hunters like to use and become emotionally attached to.
You know that feeling every hunter gets when a dog starts to go on point or ducks are coming into your decoys. That feeling – the feeling of being with your dog and being with your friends – that's what we're all about.
What was the thought process behind the new Instinct series?
The Instinct series was designed as a classic-looking gun that feels like modern guns. If you pick up some of the modern guns, they're ugly as all get out, but point great and shoot great. So we tried to come up with guns that looked right and felt right.
Our tagline is "Franchi feels right," so the number one feature we concentrated on is the feeling of the gun. Does it fit well in the hand; does it have a nice, slim profile; does it point well; does it balance well. And yet we maintained that classic look.
It also looks a little modern, with no engraving on the receiver. I actually like that because cheap engraving looks terrible.
We have very little to almost no engraving on the guns. We felt that to keep the guns at a cost people could bear, we had to either have cheap engraving or keep the engraving off.
What did you want these guns to "say" when you looked at them and shouldered them?
We want customers to immediately think this gun feels right. The light weight, the feeling of quality – the checkering is cut deep, they can see the fit and finish of the gun, the balance, the way the gun points. Then they look at the price tag and say, "Wow, I can afford this."
[The MSRP (not street price) on the guns is $1,149-1,349 depending on the model. Looks and balance aside, that's pretty darn reasonable for an Italian-made O/U with a 7-year warranty.]
How long were they in development?
We started the process about 2 years ago, and basically what we did is wipe the Franchi slate clean. We kept the 48 AL, but came up with all-new guns, a new marketing strategy, new image, new tagline, new logo, everything.
Are you happy with where you came out?
Absolutely. We wouldn't have come out with them if we weren't.
Are we going to see more upland guns and/or gear coming from Franchi in the future?
Yes. Right now the line's going to stand on its own. We'll see a few line extensions – gauges, barrel lengths, stuff like that. There will be more to come.
More
> The Instinct SL has an aluminum receiver. The 12ga guns (26″ and 28″) weight less than 6 pounds and the 20ga guns (same) weigh less than 5.5 pounds.
> The Instinct L weighs less than 6.5 pounds, the 20ga is only available in 28″ and has a case-colored receiver.
> I put in a request for an English stock option….
> You may have to wait for your gun. Some of the models are already sold out through July.
> Franchi launched in 1868 and its first gun for the U.S. market was the 48 AL in 1948. The 48 AL (auto-loader) is still made and sold.
FYI to all: Assuming the new Instinct guns end up performing well, we're going to do everything we can to help Franchi because we love the fact that they're all about us redheaded stepchildren (is it a coincidence that Jens has red hair?!).
Category: Franchi