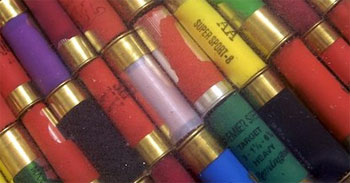 Last month we asked for your thoughts about designing the ultimate ruffed grouse shells (plural). Based on those comments (thanks!) plus ones in a shotgunworld.com thread we started, we wanted to update things – from our perspective, of course.
In no particular order:
1. We're not believers in spreader-type loads. We've used 'em, don't like 'em. Your mileage may vary.
2. No way we're using #8s. We've taken some grouse with #8 shot and they for sure don't tear up woodcock like bigger shot can, but the smallest shot we'll use for grouse at this point is #7.5. As one gent wrote, "I have shot a couple of grouse carrying #8s in their breast and will not use that small of shot."
3. Re: the comment in the shotgunworld.com thread that "if you're pulling feathers with #7.5s inside of 30 yards and not bringing down the bird, you just ain't centering the bird," all we can say is: uh, yeah. More often than not we're not centering the bird…even though we're trying! Grouse tend not to be the centering types.
4. Speaking of pulling feathers, a significant percentage of our ruffie shots are at birds going straight away or close to it. Those shots (and others) put the lie to the accepted wisdom that "all it takes is one pellet" to put down a grouse. Bigger, plated shot works better for those shots, one reason we like it.
5. At this point we like #7.5s usually for the first barrel only, maybe unless the cover is particularly thick and we're taking two quick shots. We'll use #7s in the first barrel or both barrels. For potentially longer shots in more-open cover – longer means 20+ yards because when the bird is 30 yards out it has usually vanished or doesn't present a decent shooting opportunity – it's #6. All shot we use in the grouse woods is plated.
6. We understand that non-plated lead shot spreads more, but aren't convinced it penetrates as well. If you're right on the bird, no problem, game over. But if you're not, it's a different story.
7. Penetration means through grouse and through cover. As we all know, there are very few clear shots at grouse!
8. Velocity isn't as important to us as the size, type and amount of shot, and how it patterns – though last season we proved to ourselves that modern pheasant-velocity shells have no place in our grouse arsenal. We've also long since determined that low-budget shells don't either. Premium shells with the right size and type of shot have worked best.
Lyman Says…
To finish this out (for now!) we'll quote the Lyman Shotshell Reloading Handbook (5th Edition) from Serious Grouse Hunting, Book 1:
> #6 shot (1 1/8-ounce minimum load) is good for grouse out to 45 yards.
> #7.5s (1-ounce minimum load) is good for grouse out to 42 yards.
> #8 and #9 shot it lists as good only for smaller birds – notably woodcock and quail, out to maximum distances of 40 and 37 yards, respectively.
Lyman notes that the table's recommendations are for shot that will "provide the necessary energy to penetrate to the quarry's vital organs, while still maintaining the pattern density necessary to achieve the four or five pellet hits needed to kill cleanly."
Note that Lyman didn't address #7 shot because it's not a common size.
Category: Ammo/shells, Ruffed Grouse, SBH