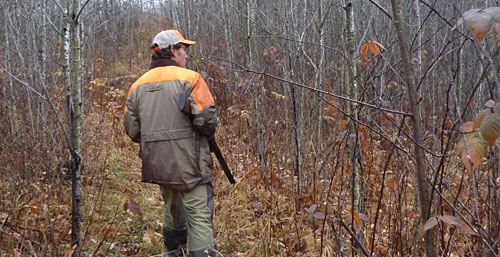 Even though the weather forecast was a little inhospitable, we had our hopes up for day 3. We'd found some birds, decent numbers, and thought we'd patterned them: We were looking for aspens or alders near aspens – all the right size, of course – with enough moisture in the ground to provide greenery for the birds, or a swamp nearby.
If we found those areas, we figured we'd find birds – grouse, not woodcock, and we were honestly pretty psyched that we hadn't seen any woodcock because we'd gotten more than our fill of woodcock in Maine.
The day started out rainy and cold, with a little wind. We'd decided to hunt the Paul Bunyan State Forest because we'd gotten good reports about the amount of logging and aspens there. Our first spot of the day was a big patch of aspens of the right size with an old road running down the middle of it. We each took one side of the road, 15 to 20 yards in, and began to hunt.
The cover actually ended up going on for quite a ways, but the only bird we ended up seeing was one that flushed behind us when we got together on the road to talk strategy for the rest of the cover. In other words, we were in the right stuff but only one bird's worth.
Saddle Birds
Spot number two was a saddle between two beaver ponds. It looked good from the road we were on, but once we got in there the trees just weren't dense enough.
We headed in on the left side of an old logging road, which petered out pretty quickly, and after a few minutes felt like it wasn't the right stuff. In our book, we recommend trusting your instincts and bailing if you're not feeling it, and that's what we did.
Luckily we decided to push back across the saddle and hit the other side of the road on the way back to the truck. In the middle of the saddle we walked under some alders, which looked about the same size as the ones where we'd found birds the day before. They were also around some aspens. Just as Jay was going to comment on that, Brendan said a bird was running in front of him.
The grouse took off low, no shot. Brendan start walking after it and another bird flushed.
Both birds flew toward the main road, but balked at flying across it. The hunt was on.
Jay took the right bird, and Brendan took the one on the left. Jay had the first opportunity. He saw the bird with its ruff up, clucking crazy chicken noises in front of him about 15 yards dead ahead. The bird had to fly straight up before being able to fly across the road, so Jay got his gun up to his cheek and started walking at the bird.
Sure enough, the grouse flushed straight up Jay focused on it and shot twice. Outcome:  a dead tree. At least he was focused on the bird! (He was pretty POd.)
Jay got up on the road in case Brendan's bird flushed the same way. He kept hearing the bird flutter like it'd been shot. He didn't remember hearing a shot, but then he was pretty focused…on that tree!
He wanted to walk toward the flutter, but didn't want to get in Brendan's line of fire. So he yelled, "Did you shoot a bird?" Brendan responded in the negative, and kept walking toward the road, so Jay hung back. Long story short, the bird flushed out of a tall fir, and took off around the bend in the road. No shots fired. Amazing how fast these chickens can disappear….
After some more stomping around on that side of the road, we eventually hunted a small aspen-choked canyon on the other side. We flushed Brendan's bird or another one, no shots fired.
We were a little bummed that we didn't put at least one of those birds on the ground, but at least we were seeing some – on a crappy day in a new area.
Small Swamp, First Woodie
Next we came upon a small roadside swamp with alders leading up to aspens. Most folks wouldn't see it as much of a spot, but our instincts told us this was the stuff.
We hunted the most promising looking side with nothing to show for it, and continued hunting way back into some dense aspens. No birds.
We came back out and were about to give up on the spot when Brendan suggested we stomp the other side of the roadside swamp. There wasn't much cover there, but what the heck. Brendan took the uphill side where the alders changed to aspens, and Jay was down at swamp level in the alders.
About 10 yards in, a bird got up in front of Jay and he quickly shot it. A woodcock. Weird – first one we'd seen.
That quick, we were out of cover. Jay walked up to show Brendan the woodie, and about halfway to him he caught some movement out of the corner of his eye. When he turned to look, a grouse flushed literally 5 feet away from him and headed straight toward the road, an easy shot. Jay dropped the woodcock, brought his gun up, squeezed the trigger and…nothing. The safety didn't come off.
To say Jay was livid is an understatement. Big time. That was two grouse he knew should've been coming home with him.
A Few Woodies, But…
The rest of the day was largely uneventful, which was a bummer. We assumed we'd find more spots like the ones where we'd found birds, but we didn't. Not driving, not walking.
We hunted another alder-fringed swamp that didn't look as good and put up four or five woodcock, but didn't shoot any because we wouldn't have been able to retrieve them out of the swamp.
So most of the remainder of the day was spent driving, trying to find good cover to hunt. We did find some, but never put up another bird, maybe because in some ways the cover was too good (more on that later). After day 2 we had high hopes, and ended this day disappointed.
Next Up: Day 4 and Heading into 'The Storm of the Century'
Category: 2010-11 reports, Hunt reports, MN, Ruffed Grouse, SBH, Woodcock