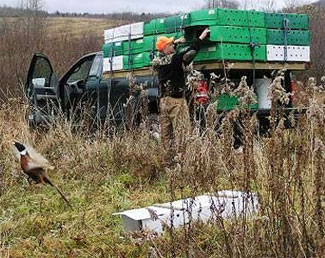 Iowa has had the quintuple whammy when it comes to pheasants. Bad winters, bad springs, bad forecasts, less hunting and less habitat.
In an attempt to shift the momentum the other way, the Iowa Legislature is mulling over a bill for a pheasant-stocking in southern Iowa. Problem is, pheasant folks say that won't work: Improve the habitat and the birds will stock themselves. Another problem: So far the legislature wants outdoors folk to pay for it…even if that's not what they want (surprise!).
Here's more, from an article at DesMoinesRegister.com:
> The Iowa House passed the legislation, House File 2247, 95-0, last week. The Senate is expected to consider a companion bill, Senate File 2253, as early as this week. The bill would direct the Iowa Department of Natural Resources to stock pheasants at a single southern Iowa site and compare the results to a similar unstocked spot in that part of the state to see if it made a difference.
> A provision in the House measure requires that the study be privately funded. But those who would most likely be asked to help pay for the effort, including sporting and conservation groups, are not enthusiastic, saying it would take money and time away from more important work needed to improve habitat so the state's once burgeoning pheasant population can rebound on its own.
> Jim Wooley, a biologist for Pheasants Forever, said studies done since the 1970s show that stocking pheasants doesn't significantly change the populations. Wooley's studies, including one in the late 1970s at three sites, found…"study areas fluctuated similar to populations on nearby areas that received no stocking," said Wooley, who previously worked for the DNR.
> Wooley, who owns an acreage in…southern Iowa, has planted and managed his own land specifically to benefit pheasants, songbirds and other wildlife. "I would never consider stocking pheasants on my land because it is a waste of time and money," Wooley said.
> Todd Bogenschutz, the Iowa DNR's top pheasant authority, agrees the effort is a waste. "I kind of scratch my head a little bit," Bogenschutz said. "Hunters are not saying 'you need to do more research.' They are telling me to fix the problem. We should be focusing on the habitat and things that work."
> Former Iowa Department of Natural Resources chief Jeff Vonk, who now heads a similar agency in South Dakota, said he, too, is skeptical. "People need to know that stocking really doesn't work," said Vonk.
> "Stocking is prohibitively expensive," he said. Wild birds can cost $10 each, and even pen-raised pheasants cost $3 to $4 apiece. Plus, "Those birds just don't survive," Vonk said.
> State Sen. Dick Dearden of Des Moines, whose committee endorsed the bill, said he's been under pressure from hunters to support stocking. But Dearden, who's also a member of Pheasants Forever, agreed it's a bad idea. He said he voted for the proposal hoping one more study would persuade backers to stop asking the state to stock pheasants.
> The bill's sponsor, Rep. Richard Arnold, R-Russell, said he fears the pheasants have dropped to such low numbers that they won't come back without a stocking program.
"Hunters are getting sick of hearing habitat, habitat and weather," he said. "They have heard that for 10 years and we still don't have any pheasants. We have to try something."
But
On the plus side, there was recent good news about the Conservation Reserve Program. Read it here at Pheasants Forever's website.
Category: CRP, Habitat Conservation, IA, Stocking