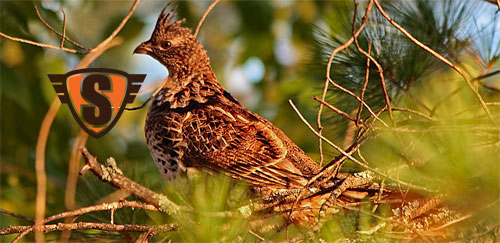 Last year we did this and it was a super-popular post, so here it is again. This is a compilation of info from newspaper reports, info from Paul Fuller/Bird Dogs Afield, the Ruffed Grouse Society's (RGS) forecast and the forecast in the autumn issue of The Upland Almanac – plus a little anecdotal info we've picked up from emails, our Facebook page, etc.
Note that last year we "rated" each state like we recently suggested pheasant states might want to do – Very Good, Good, Fair, Poor – and we'll do that the same way this year. Here we go:
> Click the link to go to that state. States not known as major grouse states are in the "Other States and Canada" section.
> Remember that these are overall forecasts, and may not mirror what you actually find, depending on exactly where and how you hunt.
> Read with perspective. In other words, a Very Good for a "minor" grouse state still might not mean hunting as good as a "Good" or even "Fair" for a major grouse state.
Major Grouse States
New England/Northeast
Maine
Forecast = Good
New Hampshire
Forecast = Good
New York
Forecast = Good
Pennsylvania
Forecast = Fair to Very Good
Vermont
Forecast = Good to Very Good!
Lakes States
Michigan
Forecast = Good to Very Good!
Minnesota
Forecast = Good
Wisconsin
Forecast = Good
More
Support the RGS!
_____
Major Grouse States:
New England/Northeast
Maine
Forecast = Good
2010's forecast was Good to Very Good
> Kelsey Sullivan, Maine's migratory and upland game bird biologist, told the Bangor Daily News this about grouse: "I don't think it's going to be a bumper year, but it's going to be so-so, mediocre" because of a wet spring that affected some broods.
> Fuller said "it appears that the three northern New England states (ME, NH, VT) have about the same forecast. Areas of these states suffered from bad storms in May and early June [but] were often localized. That means you'll find pockets of poor brood survival and just 20 to 30 miles away will be pockets of excellent brood survival. A very general forecast would be that the farther north you go, the less impact of the storms.
> Sullivan noted that woodies wouldn't be great but the season is being extended.
Our take: Ruffies were supposed to be great last year, but we didn't find a whole lot. On the other hand, woodies were supposed to be so-so and we found over 100 in a week's worth of hunting without even trying!
The bottom line is that Maine will always be a good grouse state – maybe Very Good – that's always worth hunting and if you have to put the miles on to find pockets, that's just grouse hunting. Since woodie populations don't seem to have changed much, we expect to trip over a bunch again.
Also, as in the Great Lakes states, the farther north you go, the better the hunting often is. Often, not always! And if you've never hunted far north in one of these states, the habitat can be a bit different so be open-minded.
New Hampshire
Forecast = Fair to Good
2010's forecast was Good
> The Upland Almanac reports that indicators point to an upward trend in grouse and woodies, indicating a Good rating.
> RGS confirms that but notes – via Julie Robinson, NH upland game bird specialist – that "this is a fair to good year for nesting and brood rearing south of the White Mountains and fair to poor for the North Country."
> RGS: Statewide woodcock singing ground surveys showed numbers similar to last year. Another caution about numbers in the north because of wet spring weather.
New York
Forecast = Fair to Good
2010's forecast was Good
Word is that New York is a tough state to hunt. Pockets of birds, some pockets with lots of birds, but you have to spend a bunch of time looking. The Upland Almanac stated (in part):
> Grouse counts have been trending downward since 2009 but "hunting is expected to be fair to good in the St. Lawrence valley and the western Adirondacks, south through the Mohawk valley" and in a couple other spots.
> "The exceptional woodcock hunting of 2010 is expected to continue in 2011."
Pennsylvania
Forecast = Fair to Very Good
2010's forecast was Fair to Very Good
The RGS is in PA, and had the best info. Excerpts:
> Lisa Williams, PA grouse biologist: "The downward trend in high-quality young forest habitat continues to take its toll on grouse populations. Grouse are still holding their own where good habitat exists, and this shows in some regions of the state, but the statewide flush rate of last season (2010-2011) was below the 40-year average: 1.30 flushes/hour in 2010-2011 as compared with last year's statewide average of 1.40 flushes/hr and the 40-yr average of 1.41 flushes/hr."
> Northwest PA "should have excellent hunting – this region is consistently the top area in the state. Northcentral "is good hunting – a bit spotty."
> Southwest, Southcentral and Northeast are fair: "These regions maintain intermediate flush rates and habitat conditions with…lower rates of active forest management."
> The Southeast is fair in areas north of the Blue Mountain ,and poor south of it. "This region has lost early successional habitat at a rate even more rapid than the rest of the state."
> Williams is optimistic the hunting season for woodcock in the state will be successful, yet recruitment to local populations may be low for this year.
> The Upland Almanac says "excellent" grouse hunting north of I-80.
Our take: There are always birds in PA. May not be like yesteryear, but hey, you can find birds…though anecdotal info points to some regions of southern PA being very poor for grouse, possibly not just because of a lack of habitat (a mystery).
Vermont
Forecast = Fair
2010's forecast was Good to Very Good
> The Upland Alamanc reports that drumming counts increased in the Northeast Kingdom area, though a wet spring might not have helped. It added that woodies should be good.
> However, RGS reported "poor nesting conditions due to record rainfall and flooding experienced during the months of April and May. Vermont Fish and Wildlife biologist Paul Hamelin said that based upon anecdotal reports, the 2011 brood production seems below average.
> RGS: Although the Northeast Kingdom region of Vermont has maintained significant young forest habitat due to a large proportion of land dedicated to active timber harvesting, the current economic climate is marginal for logging. Very high fuel costs combined with low demand for lumber (housing surplus, little new construction) has led to a significant slowdown in timber harvesting, with some contractors going out of business.
Major Grouse States:
Lakes States
These states are kind of like Maine: always good, especially the farther north you go.
Paul Fuller wrote, "Most folks I spoke with feel the heartland of Midwest grouse hunting is having a three-year plateau at the top of the cycle. This fall will be the third year." But doesn't seem like there's general agreement on that.
On the one hand grouse are supposed to be good in all areas – great in Michigan's Upper Peninsula and the more northern parts of Minnesota and Wisconsin – and we've gotten some anecdotal reports to back that up. On the other hand, Michigan and Wisconsin are coming down from recent peaks in the 10(ish)-year cycle, and some places change every year.
The Upland Almanac notes that Michigan and Wisconsin grouse are on the down side of the cycle but still near the recent peaks, and that northeast Minnesota will be best (we figure that means about 4-5 hours from Minneapolis for out-of-staters – since we didn't hunt far enough north last year!). It added that Michigan woodies are supposed to be very good.
As always, the farther you go north, the better. Just don't be countin' any spruce grouse as ruffies. The spruce grouse will be the ones that you can kill with a stick, and that taste like a hammer slathered with shoe polish….
Michigan
Forecast = Good to Very Good!
2010's forecast was Good to Very Good
From the Flint Journal newspaper:
> Al Stewart, upland gamebird specialist, said spring drumming surveys in the Upper Peninsula found 37 percent more pre-mating activity going on this spring than spring 2010.
> There wasn't any change in drumming activity heard in northern Michigan from last year, Stewart said, but he said neighboring Wisconsin had similar drumming results to the U.P.
> He said grouse and woodcock production last spring won't be apparent until hunter success rates begin to emerge in mid-October. Stewart said he expects hunter success to be considerably better in the U.P., and about the same in northern Michigan, based on the drumming counts.
> Bird hunters who cooperate in annual flush rate surveys reported last year that they were flushing 1.7 grouse per hour of hunting and 1.4 woodcock per hour.
> Stewart told the RGS: "If we [had] favorable production this spring, I anticipate fall ruffed grouse and woodcock numbers could be similar to last year, and last year was pretty good."
In other words, Michigan has birds, and the U.P. should be great. Wish…we…were…going!
Minnesota
Forecast = Good to Very Good!
2010's forecast was Good
From the Brainerd Dispatch newspaper:
> "This year's drum average is the eighth highest since 1966 and the highest since 1998 [but] a wet summer could offset harvest numbers for area hunters. Gary Drotts, DNR wildlife manager in the Brainerd area, said, "Unfortunately, it was kind of a wet summer and the first couple weeks of June were wet. So I'm being a little cautious. We should have a decent year."
> "When there are good drumming numbers that means there's a good base of adult population numbers. When you look in the fall, if you have good, dry springs and a good hatch, a large proportion will survive. But when you have a wet spring, those chicks are pretty small, and if they keep getting wet they just don't survive. You have to have a good adult population going into the spring, which we had, and have a good hatch. So that other half is a little iffy. It's not one of our peak years, but it's not one of our down years, either."
> RGS: "Ruffed grouse surveys taken during April and May of this year indicate the densities of ruffed grouse remain high, relative to the 10-year population cycle in Minnesota."
> We received a couple of opening-weekend reports that were positive.
Wisconsin
Forecast = Good to Very Good!
2010's forecast was Good
From the Eau Claire Leader-Telegram:
> Dan Dessecker, a biologist for the Ruffed Grouse Society who lives in Rice Lake, predicts hunters will find about the same numbers of grouse in northern Wisconsin as they did last year, when numbers were high.
> With generally moderate weather during the last week of May and first two weeks of June – the time grouse chicks are most vulnerable to cold periods – brood survival should have been good, he said.
> Brian Dhuey, Wisconsin DNR wildlife researcher told the RGS: "Statewide ruffed grouse population indices increased 38% between 2010 and 2011, based on the number of drumming grouse heard during roadside surveys. This is the fifth increase in the ruffed grouse index in the last six years."
Other States and Canada
We'll keep these to a couple sentences. All info from the RGS, The Upland Almanac and news reports. Note that we don't mention every state because some are marginal at best – like DE, which might have a few woodcock, MO which still has a closed grouse season due to lower numbers, etc.
Alaska
> Grouse populations in the interior may be on the way up from the bottom of the 10-year cycle.
Connecticut
> According to Connecticut DEP biologist Mike Gregonis, "productivity was fair to good last spring for grouse." Ruffed grouse have declined as habitat has matured. Look for fair to good production among woodcock this year.
Georgia
> Lower Georgia supports locally high numbers of woodcock through the winter, and they can also be found in the northern valleys later in the fall.
Iowa
> Grouse numbers continue to be low. Much of the spring was unseasonably wet, making nesting and brood rearing difficult. Habitat improvement efforts continue.
Kentucky
> Pockets in eastern Kentucky, don't overlook reclaimed surface mines. Concentrate woodcock efforts in bottomlands and along waterways.
Maryland
> Flush rates have risen, and grouse densities and hunter success are highest in Garrett and Allegany counties because of increased timber harvest. This spring's weather may have negatively impacted reproductive success.
Massachusetts
> Grouse numbers were stable on drummer surveys, and the number of woodcock was unchanged from 2010. Cold, deep snow conditions and abundant food resources favored winter survival among grouse. A fair to good forecast this fall.
Montana
> Montana didn't issue a grouse forecast this year, but a tough winter and spring seems to have hammered what was a low grouse population last year.
New Jersey
> Our take: Grouse are supposedly improving, but a better use of your time is to head into NY or PA.
North Carolina
> Currently grouse are scattered and numbers are down. Last fall was a great acorn crop, which may have positively impacted brood survival rates.
North Dakota
> Last year ND crowed about its increased grouse population, this year nothing – probably because of the same weather events that hammered the pheasant population.
Ohio
> Grouse populations remain low throughout grouse range in Ohio, but habitat conditions continue to improve on many State Forests and Wildlife Areas. Ohio biologist Mike Reynolds stated, "I am hopeful that the increase in drummers heard this spring is the start of a population rebound in some areas." If you can catch the fall flights, woodcock hunting can be quite good.
Tennessee
> The outlook for grouse is bleak due to the lack of quality habitat and funding for habitat work.
> Our take: Birds are there, but can be tough to find. Tennessee grousers, help your DNR get the word out about forest management.
Utah
> Yep, Utah has some grouse, and The Upland Almanac reports a wet winter and spring (relatively speaking) meant good things for upland bird reproduction.
Virginia
> The Upland Almanac predicts a poor year, but the RGS notes that last year's acorn crops indicate that grouse were in excellent condition this spring. Extended wet periods in mid-May may have impacted chick survival rates.
> Biologist Gary Norman reports the Virginia drumming surveys indicate an increase over previous years. The best hunting can be found in the southwest portion of the state. Wildlife Management Areas tend to be managed more heavily for grouse than Forest Service lands.
> We've heard that there should be a good amount of grouse in VA this season.
West Virginia
> Hunting success should be good where cover is sufficient and forage abundant. Woodcock hunting should be good in the old field edges encouraged by management and reclaimed strip mines.
Other
Grouse are of course in other states – Oregon, Washington, California, to name three – but aren't hunted much so no info for them.
Let us know what you find when you're out there!
Canada
Only RGS had Canadian grouse info. Excerpts:
Ontario
No annual survey, "but given the synchrony of the grouse cycle evident from drummer surveys in the Great Lakes states, it's probable that grouse are near the peak of the cycle. Suitable habitat conditions, the result of active timber management, exist in much of the province north of French River.
"Good populations of grouse and woodcock, along with fair spring weather, create a favorable outlook for upland bird hunters this year."
Quebec
> No survey, but 2010 was a banner year for grouse, particularly north of the St. Lawrence River. The woodcock survey showed numbers of singing males up slightly from last year north of the St. Lawrence River.
Manitoba
> RGS didn't have a forecast for this, but we have a buddy there who regularly finds birds, no issues. Obviously just anecdotal….
Nova Scotia/New Brunswick/Prince Edward Island
> Nova Scotia: Indications are the population may be lower than last year with continued cool damp weather. Nova Scotia DNR Wildlife Biologist Randy Milton isn't optimistic about woodcock production this year.
> New Brunswick: DNR Wildlife Biologist Rod Cumberland reports that a cold and very wet spring would suggest poor brood production. Improved June weather and casual observations of good-sized grouse broods indicate bright spots in an otherwise fair outlook for both grouse and woodcock.
> Prince Edward Island: Spring nesting conditions were wetter than normal, but conditions improved in June, just in time for newly-hatched grouse broods. Expect similar numbers as last year.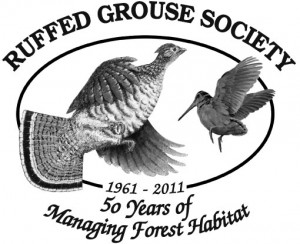 Support the RGS!
If you're a grouse hunter, or just an upland bird supporter, and are not a member of of the Ruffed Grouse Society, you shoudld be. Why? Because the RGS is the only organization that works to get more woodland upland habitat created. It's also celebrating its 50th birthday. Sign up here.
Category: 2011, AK, Canada, CT, Forecasts/counts, GA, IA, KY, MA, MD, ME, MI, MN, MT, NB, NC, ND, NH, NJ, NS, NY, OH, ON, PA, QC, Ruffed Grouse, SBH, TN, UT, VA, VT, WV