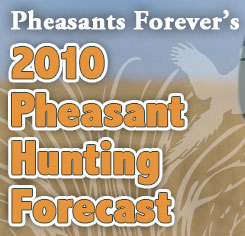 Pheasants Forever's state by state (not all states) Pheasant Forecast for 2010 is out. Some of the state info is helpful, some not. Would be great to have it in graph form to see trends. Anyhow, here's the overview plus the links for each.
"Pheasant numbers appear to be holding steady in the Dakotas, Kansas, Minnesota and Nebraska, the heart of the Heartland's pheasant range. That means fun months ahead for pheasant hunters and their bird-hunting companions.
"Also holding steady are Conservation Reserve Program (CRP) acres. The recently completed general CRP signup will likely keep the program at or near 32 million acres nationwide, much of it vital ringneck habitat. And the federal "Open Fields" initiative is off the ground, which will help states launch or enhance public hunting access programs tied to wildlife habitat improvement. Your support of Pheasants Forever has been critical in the success of both programs.
"In contrast to a respectable outlook across last year's top five pheasant-producing states are the bleak prospects for longtime pheasant stronghold Iowa. Across the rest of the U.S. pheasant range, prospects are murkier, with a snowy winter and wet springs hurting pheasant production in many areas. Still, pockets of habitat and birds to be chased exist, and any day spent pheasant hunting is a day well spent."
California – Stick to the Rivers and Valleys
Colorado – Good to Excellent
Idaho – Too Soon to Tell
Illinois – Winter and Wetness Equal No Change
Indiana – Northeast Coming On
Iowa – Bad News Keeps Coming
Kansas – Cementing Itself as South Dakota South
Michigan – Varied Upland Opportunities
Minnesota – Despite Rough Winter, Similar to 2009
Missouri – Drop Continues Across the North
Montana – Up and Down Across Big Sky
Nebraska – Down Slightly Overall, But Big Jumps in Hotspots
New York – Maintaining Tradition
North Dakota – Plenty of Birds, Plenty of Access
Ohio – Hard Winter Has Its Say
Oklahoma – Too Soon to Tell
Oregon – The Birthplace of Pheasants in America
Pennsylvania – Recovery Projects Continue
South Dakota – Still Rules the Roost
Texas – Too Soon to Tell
Utah – Looks to Top Last Year
Washington – Look for Pheasants and Bonus Birds
Wisconsin – Down for Third Consecutive Year
Wyoming – Big Horn Basin for Birds
Category: 2010, CA, CO, Forecasts/counts, IA, ID, IL, IN, KS, MI, MN, MO, MT, ND, NE, NY, OH, OK, OR, PA, Pheasants, Pheasants Forever, SD, TX, UT, WA, WI, WY