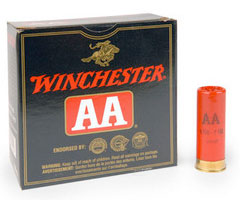 If you've shot Winchester AA shells, we don't need to explain how good they are. If you haven't shot them before, or much, run out to a Cabela's – call and check first! – and buy a case for $84.99, send in the $20 mail-in rebate and thus get the case for just $64.99!
That's the lowest we've ever seen these shells, and if our math is right amounts to a 23.5% discount. Nice, especially since that's a good price for average hunting shells.
The Cabela's flyer we got says 12ga and 20ga are available, #7.5, #8 and #9. We'll take the #7.5s for grouse and sporting clays, maybe the #8s for woodcock and clays, but don't much like #9s for much, even clay birds.
One final note. Yes AAs are made, sold and known as target loads, but they kill birds just as dead as hunting loads. Plus they're very consistent and shoot sweet.
Might want to check your local Bass Pro Shops, Gander Mountain, Dick's or other retailers to see if this is a national deal or just a Cabela's or regional thing. No word on when the rebate expires.
More Info
From Winchester:
> Velocities up to 1200 fps.
> Shell after shell, AA shotshells deliver hard shot for tight patterns, clean burning, reliable powder and primer, and high strength reloadable hulls in loads to meet every shooter's needs.
Category: Ammo/shells, Deals/sales/sweepstakes/giveaways/etc, Winchester