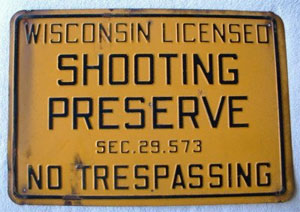 We keep kicking around an article we read sometime back about the role of hunting preserves, highlights of which are below. Both of us have done the preserve shoot thing, but it's not even close to being up there with matching human brains against bird brains in the wild.
Still, with the continued loss of bird habitat and free time, it seems important to the overall bird picture. Read the following and let us know where you stand.
> A whole lot of people like to hunt upland birds, yet few can invest the time and effort needed to do so in this day and age. The enterprise must be nurtured year-round and most guys and gals cannot commit to the needs of securing, scouting and managing places to hunt. There's also housing, training and caring for a string of expensive bird dogs every day so they may be able to go out a handful of times each autumn and winter in search of quail near home or other feathered quarry even farther away.
> Even as early as 100 years ago, individuals noted this simple truth and thus was born some of the first upland game hunting preserves – places where people could go and expect a good afternoon of shooting and table fare without the other ties traditionally needed for such recreation. Today, the number of state-regulated shooting preserves across the nation is in the thousands.
> "For the most part, the birds are just not out there like they used to be, and there are not as many places to hunt," said Richard Denning proprietor of Meadowbrook Game Farm. "We see a lot of folks who grew up hunting, but no longer have a place to hunt and no longer have a bird dog."
> Others like to visit preserves that do have dogs, maybe very young pups in need of some more interactions with birds or grizzled old veterans requiring a more controlled environment.
> One final purpose of upland game preserves is to introduce newcomers, an important detail Denning pointed out. "We have quite a few guys who grew up hunting who come and introduce others to the sport, which is good." Oftentimes, it is difficult to convince someone, especially youngsters, who have been dragged through saw briers for hours in search of one or two wild coveys that bird hunting is fun. [Like fishing for bluegills instead of trout?]
So for folks who 1) can't afford to keep dogs and/or travel to hunt; or 2) want to work young or old dogs; or 3) introducing people to the sport, game farms are a good idea. Makes sense to us. You?
Category: Preserves/game farms