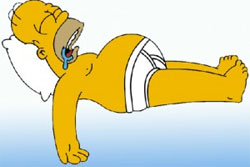 by Jay
Well that sucked! Every August it's something.
Three years ago my back was out for weeks, and it was questionable whether I'd make the first trip of the season. Turns out I did, after 2 weeks of recovery. Made it through every day, but it about killed me….
Last year it was a summer cold (not a big deal), followed by Lyme disease. After a few day Lyme didn't feel so bad, but recovery took some time and the weeks of antibiotics weren't the greatest for feeling "bird fit." (Kind of, uh, stopped me up, too….)
This year it was this 3- to 4-week "cold" – like a 15 cold on a 1-10 scale or a 5 flu – making the rounds some places. Finally licked it, and today went out for a 1.5-miler for the first time in about 4 weeks. It sucked!
Holy cow – could not believe how much I'd lost aerobically. There must be some kind of formula that shows that as you age, your fitness drops exponentially with each day you don't do something.
And here's a news flash: Working long hours sitting on your butt all day doesn't help your fitness! (Also doesn't help get guns altered, dogs bought, gear evaluated, kids fishing, wife happy, etc. Yep, that violin you hear is playing for me….)
By now I'd ideally like to be doing suicides (wind sprints) at the local park. Not going to be after the chickens until mid-October, but once school and kids soccer kicks in here, plus the post-summer work ramp-up, the time to get in shape dwindles.
And as we've said many times here and in Serious Grouse Hunting, Book 1, it's easier to get in shape if you've maintained it all along than to pile it all on at once right before the season starts. True for dogs too, as you know….
So: Are you in shape…or getting there?
And speaking of in shape, are you getting your boots in shape, and your feet used to your boots? Don't forget to do that.
And anyone need a new pair of boots? We're going to give away a new pair of Irish Setter Wingshooters soon – maybe tomorrow….
Category: Fitness