Since Maine is one of those few, stubborn states that don't allow hunting on Sundays – apparently the folks in Augusta still drive Model Ts – we headed to New Hampshire…on Sunday. The bad thing was we we've never hunted New Hampshire before – which was also the good thing. We're always up for new areas.
So off we went, into the apt-named Big Woods country. Big woods? Check. Cuts? Check, but all pines. WTH? We're sure there were grouse here and there, but how do you hunt 'em? We couldn't bust our way through pines, and the places that looked grousy to us – decent areas with birch and plum – apparently didn't look that way to the birds. We saw no sign, no birds, no flushes.
We felt like we had to get out of there (around 2,000 feet) and find some better habitat. So after several hours we decided to bag that area and head down south. We wanted lower elevation and hopefully more aspens. Not necessarily to hunt – though it would be great if we could, just not a lot of aspens around – but because of what they indicate: bird-friendlier areas.
We drove down to what looked like some decent areas on the map, and they were decent – but for some reason the DeLorme map book failed to mention they were all part of the Umbagog National Wildlife Refuge. Doh!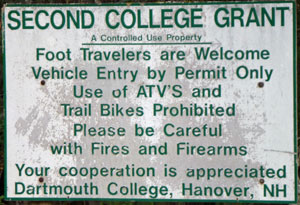 We tried to access the Dartmouth Second College Grant/Hell Gate area, but apparently Jay's very expensive education there didn't give him any super powers to open the locked gate.
From there we hunted a random road that went from Maine into New Hampshire by a river, and even though it was loaded with mostly pines flushed two grouse. Go figure.
Then driving and more driving, hunting a few "not so good but better than what we've been seeing" spots. No birds.
Then we saw what looked too good to be true. A hill – a big one – with alders at the top and bottom, and pole-sized aspens, raspberries and what ended up being several apples trees throughout.
Ka-ching!
We looked around for posted signs, saw none, parked the car and walked in. Within 10 minutes Jay flushed three grouse that were pushed from the top part to a soft edge (about a 10-yard-wide oval raspberry clearing). Went like this: "Bird!" [2 seconds.] "Bird!" [1 second.] "Another one!"
At least two of them flushed down the hill, but one flew right to left across Brendan's brother Sean. He got a couple shots off, but no grouse…yet. Jay walked another few yards and put up a few woodcock, then a few more. It was nuts!
But still no birds down, and Brendan (to Jay's right) hadn't even seen a bird yet.
Everyone kept walking. Jay was coming up to a small raspberry clearing and saw a grouse ahead of him. The bird took off to his left, and he got it on the second shot – then another bird took off again to the left, towards Sean. He wasn't ready because he was marking where Jay's bird fell, but managed to get off a shot…behind the bird.
Long story short, that hillside ended up producing 7 grouse and 7 woodies on the day, but just one bird down.
We actually quit the hill early because it was so good we felt like we were hunting private property, even though it wasn't posted. That hurt! On the other hand we know darn well there aren't a ton of grouse hunters out there – ones that don't road-hunt – and we even had it confirmed at a local sporting goods store that if land isn't posted, it's fair game.
Either way, our first day hunting NH was a good one: 9 grouse flushes, 7 woodcock flushes. Who woulda thunk it.
More
> That magic hillside was at 1,500 feet, which threw our altitude theory to heck – for great grouse habitat, which this was. But for marginal habitat…not sure.
Category: 2011-12 reports, Hunt reports, ME, NH, Ruffed Grouse, SBH, Woodcock