Day 8, the last day of our 2011 Rangeley, ME-area (plus a day in NH) grouse hunt, started with a bang. We hunted a new area, and ended up flushing 15 grouse and 2 woodcock with two grouse down. We were fired up and wondered if we'd exceed our record for the week of 26 grouse flushes.
Sounded nuts to top that, but we had a great start.
From spot 1, we headed up the road and this time saw what we wanted to see right away: the islands of fir and hardwoods, the berry fields, that patchwork cover.
Just like spot 1, however, within about a quarter-mile of the road, no birds. But once we got deeper into this one, holy cow it was nuts!
First Brendan saw a bird running…which mysteriously disappeared when we tried to corner it and flush it. Then we heard a grouse drumming. Again. And again. Then suddenly Brendan took a step and it was like a replay of the first spot: one grouse flushed, he shot, then this time three more busted out of the area.
Seemed like the sky was filled with grouse – it was more like quail hunting, and all this with the constant drumming going on!
Jay took a couple hail Mary's but didn't connect, nor did Brendan. And like the first spot, we ended up flushing those two birds again, one of which Jay shot.
The details from then on aren't important except two:
1. You wouldn't believe how much grouse poo there was in this spot. Almost everywhere, and some woodcock splatter/chalk too.
2. The drumming grouse was up on a ridge. We figured he was daring us to go get him, so we climbed up there and then realized why he was drumming: Another bird was drumming up there too. Long story short, Brendan flushed the first drummer and it flew directly to Jay and literally almost slammed into the end of Jay's barrel!
No shot because the bird came from Brendan's direction. Jay just cracked up. Here's the log that grouse was on (shell in there for perspective):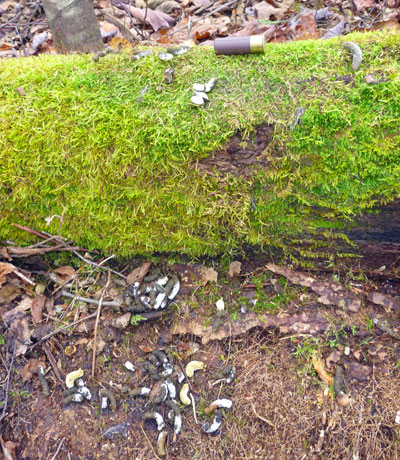 We flushed at least three more birds there – including the second drummer – and ended up with 14 grouse and 5 woodie flushes. Jay banged 2 woodies and a grouse.
After that, we named that spot "Insane in the Membrane."
That was it on the day: 29 grouse flushes, 7 woodie flushes, 3 grouse down, 2 woodies down.
Flush rate: 9 birds/hour! Holy crap!
Tips
In addition to the patchwork cover described in part 1 of this hunt roundup, here are some tips:
> Get away from the roads, but not too far. We found birds up to a quarter mile or maybe a half mile away from roads, but no farther even in the exact same cover.
> Sometime it's important to poke in pretty far. Don't know if road or road-edge hunters whack all the "easier" birds or what, but that's what we found…in this area of Maine during these particular conditions.
> Listen to what the birds are telling you. Grouse in pines? We didn't want to hear it. We wanted to find the birds where we thought they "should" be instead of where they wanted to be. When we listened, we found more of them.
> As we said in our first book, grouse absolutely do not have to be in classic cover like aspen cuts and abandoned farms. They'll be wherever their needs are met (gravel, cover, food).
Other than that, know that you can pattern birds. We realize not everyone has 8 days at a stretch to hunt, but use your knowledge and observe closely when you're out there.
Last but not least we say all of this knowing full well lots of folks reading this are better hunters than we'll ever be. Just sharing what we find, please do the same.
Hope you enjoyed being on this hunt with us, and if you've got some good hunt stories (any upland species) and insights, please send em to us at birdmen AT seriousbirdhunting.com – we'll see if we can make you famous….
Stats: Birds
In 8 full days of hunting:
> 109 grouse flushes, 7 birds shot.
> 53 woodcock flushes, 9 birds shot.
> That averages out to 12.37 grouse flushes per day and 6.82 woodie flushes per day, or 19.19 flushes per day. Not bad!
Stats: Other
A few non-bird stats that come to mind:
> Miles driven not including to/from the Portland airport: 1,000+.
> Bottles of Maker's Mark disposed of with no ill effects: 3.
> GPS/map units needed to find out where the heck we were at any given time: 5 (DeLorme map book, Google Earth printouts, three different Garmin GPSs).
> Hunters we saw that had dogs (i.e., not road hunters): 3.
> Boxes of shells used, three hunters: 4.5, Federal and Fiocchi.
> Gauges used: 3 (12ga, 16ga, 20ga).
> Moose sightings: 8.
– End of part 2 of 2 –
Recap
Here are links to the rest of the posts about our 2011 Maine/NH hunt. Also, some different photos and Serious info posted by other folks on our Facebook page.
Category: 2011-12 reports, Hunt reports, ME, NH, Ruffed Grouse, SBH, Tips, Woodcock