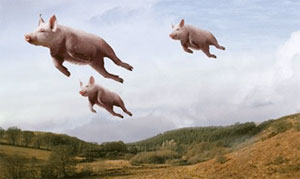 DNH. Did Not Hunt. Never thought it would happen, never had happened before no matter what the conditions. But on day 6 in Minnesota we were SOL.
A record low-pressure storm – basically a land hurricane – sat on top of a huge chunk of the United States, including Minnesota. Wind, rain, snow, more wind – wind that was toppling trees and making the precipitation come down hard right or left. Still, we wanted to hunt.
What else were we going to do? Work? Watch TV? More like pace around like a couple of caged animals because we were in fact caged in our motel room. Our wives actually laughed over the phone, picturing the both of us stuck in a room together all day long. (Serenity now….)
We were there because downed trees and downed power lines prevented us from being in our cabin. That meant we couldn't dry our wet clothes from day 5. So we were pretty much SOL and made the best of it. No clue what we did, other than at some point the power was restored to our cabin and we got ready for the final day of our Minnesota hunt: day 7.
Hunting With Tom on TV
If you've never heard of Focus Outdoors TV, that's probably because it's only distributed on Dish Network. It's one of only three upland bird hunting TV shows we're aware of, though it does have some waterfowl stuff too.
We're telling you about this because one of the hosts of the show, Tom Poorker, loved our book so much that he wanted to take us hunting and put us on the show. Naturally we were flattered and psyched, mostly because Tom was ruffed grouse guide for 20 years before his TV gig – meaning he doubtless knows far more than we do about hunting these crazy birds, and still found a lot of value in our scribblings.
We'd actually scheduled the hunt for day 6, but the weather made that impossible. Thankfully Tom and his folks could reschedule – because it turned out to be our best day of hunting by far. Though at the beginning of the day it didn't seem like it would be: Bearing in mind that the previous day was basically a hurricane, the forecast was for continued cold temps and wind. Less wind than the previous day, but enough that we were feeling that if we could see a bird, we might not be able to hear it.
Private Land, Dogs
We were going to hunt private land with two guides and their dogs (Tom and his wirehairs, and Mark Haslup and his Gordon setters) – and the weather was bad enough that we still had worries! Worries that were still there when we met up with Tom and the gang (including cameraman Derek Gurken). It was so dang cold in the field where we were getting ready, we honestly felt like we might have to bail on the hunt at some point!
(Obviously we're not late-season midwest pheasant guys….)
Here's the short version of how the day went: We hunted ideal-sized aspens mixed with a bit of fir/pines, a few alders; the day warmed significantly and the wind laid down a bit; we ended up with 15-20 grouse flushes, and 20 woodcock flushes. Not only that, everyone got along great and enjoyed the day.
Bird-wise, the only shootable birds really were the woodies. Eight ended up on the ground, of course a few more should've. The grouse, even after it warmed up and the wind decreased, were track stars. They were running anywhere between 20 and 75 yards ahead of us or the dogs before flushing.
Still, one grouse ended up on the ground when Brendan knocked it down at about 40 yards (!). A great shot. How'd he do it? He said, "#6 Fiocchi Golden Pheasants, baby!" Great shells, and they definitely had a role, but a great shot for sure.
Even though everyone saw that bird get hit and fall, obviously that's no guarantee you'll find it where it fell, even with dogs. We were hunting with one of Tom's wirehairs at the time – great dogs, by the way – and that dog just could not find that grouse. It seemed a little confused (sorry if that's the wrong word for it, Tom!), a little hyper. Here's why:
About 7 yards from where the bird was marked, the dog flushed a grouse from underneath a log. The log was resting on the ground except for about a 10-inch-wide gap that was maybe 4 inches high at the max. One of the three or four birds Brendan and Mark startled in that area had hid there, that close! (That was the lone exception to the track star rule.)
No one had a shot at that bird, and everyone wondered whether it was the birds Brendan had shot, or shot at. Still, we were all convinced that he hit his grouse and hit it pretty hard. Sure enough we eventually found the bird, about 15 yards from where everyone marked it, stone dead.
MN Windup
Overall, a great end to another somewhat tough trip. Seeing nearly 40 flushes, putting some birds on the ground, and hunting over good dogs with good people – can't beat that. Plus Tom was a great and thorough hunter, and we definitely learned a few things from him.
Beyond that, we don't know who we ticked off to get a bunch of bad weather this year, but we've certainly had our share!
Would we return to the Walker area of Minnesota? Not sure. We definitely left a few stones unturned because of the weather, and would love to hit those areas at some point. But unlike Maine, where most of the grouse hunters are road hunters, quite a few Minnesotans hunt birds while walking with dogs. So the Walker area – sort of the weekend travel limit from Minneapolis – gets a pretty good amount of pressure.
But we did figure out some of a huge, new-to-us area, and got on birds in some terrible weather – as many or more birds than even some with-dog hunters (pat selves on back). Still, with so much good cover, just two guys stomping through it and no dog, it was pretty tough hunting.
Bottom line: we went grouse hunting and loved every minute of it.
Onward and upward: hunting Pennsylvania soon!
Category: 2010-11 reports, Focus Outdoors TV, Hunt reports, MN, Ruffed Grouse, SBH, Woodcock