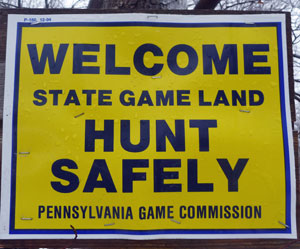 Brendan flew into Newark from North Carolina last Monday morning with a stomach bug and three hours of sleep, but he was up for hunting – of course. He swung by Jay's house in Jersey, and we high-tailed it out of town to our old stomping grounds in eastern Pennsylvania. Yeah!
Though our hunting area isn't too far from Jay's house, the weather up there can be a significantly different, partly because of the higher altitude. But when we got there, it was like it was in Jersey: Sunny, blue sky and cold, in the 20s. Not real cold, but cold enough to keep the snow from melting – meaning we would be quiet and should be able to see chicken tracks.
Since we hadn't been there in about – three years? four? – we weren't sure what our covers would look like when we got there. Would they be completely different? No longer huntable? We had no idea.
Turns out they were just about the same – a huge benefit of finding non-classic (non-aspen) grouse covers. With few fast-growing aspens in these areas, the trees are almost all hardwoods, and those hardwoods grow slower. So we were amazed and somewhat excited to see that little had changed. Now we had to find out about the birds.
The Plan
We started hunting in The Bomb Area (the story behind that name is told in a previous post) because we were antsy to get out in the woods in that spot is the close to a main road. But because it is close to a road and looks the most like classic grouse cover, those birds get hunted more.
However, when we pulled in, all we saw were cross country ski and coyote tracks, so we figured no one had been there in a while.
The Bomb Area is big, and we wanted to hunt another cover about 2.5 miles into the woods after that, so our plan was to slice through the Bomb Area, hit a trail leading deeper into the woods and then hunt that second cover. Our slice through was somewhat random – we were vaguely pointing ourselves in the direction of birds found in years past.
30 Minutes, 3 Birds
We were having a good time ducking and weaving through a mixture of beech, birch and cherry trees when we popped out onto an overgrown logging road with some bushes on them. We couldn't tell what they were (take a look at the photo, tell us if you know), but they had attracted winter grouse in years past – and were doing it again.
Brendan saw some grouse tracks in the snow, meandering around the bushes. We followed the tracks down to an edge of mature forest. One of the track lines went into the forest and Jay continued along that line. Brendan, following whatever birdy instincts he has, walked slowly off the left where there was an island of the "red bud" bushes in some small beech trees.
Suddenly Jay heard Brendan yell "Bird!" And just as he was looking over to his left heard Brendan yell "Bird!" again and then "Bird!" one more time. What the….
Jay caught the silhouette of one bird before it dropped into the forest ahead of Brendan – and even though he was only about 25 yards away didn't hear a thing. Not a thing! Meaning, no shot.
Jay hustled over to where Brendan was standing, sort of stunned, and asked what happened. Brendan said one bird flushed straight, he threw his gun up and his thumb did this:
Then another bird zipped off left and the third one took off right. Isn't that just like our furry-chicken friends – taking off in different directions like they planned it….
We hunted around that place some more and found a veritable highway of tracks going through a small food island, but no re-flushes…which surprised us.
Brendan had mixed emotions: happiness at seeing three birds so fast, but pretty ticked that he couldn't get the safety off (da-da-da–dada-dada…).
Long In, Longer Out
We exited The Bomb Area onto the trail, and hoofed it back into the wilderness to a spot we couldn't wait to see. The last time we were there it was super-dense beech and birch peppered by grouse tracks in the snow. Back then it was literally too dense to hunt, so we figured 3-4 years later it should be just about right. We just had to get there first…
…and you know how it is with snow: multiply the time it normally takes to get somewhere by about three.
It took us about an hour of hard walking to get there, but we weren't complaining, especially when we saw (and then remembered) how distinctly un-grousy the surrounding area looks. In other words, the only way you're finding this cover is with Google Earth or a long walk, so we figured these birds maybe hadn't seen hunters since we were last there.
The short version is that we saw one bird. Or rather, Brendan saw it flush from a laydown tree about 12 feet in the air – a roost. The rest of the cover still reeked of good grouse habitat, but we didn't see a thing. No tracks, no birds, no roosts.
You know what came next – a loooooooong slog out. Longer in distance because we hit the trail further down on the way in and now had to go all the way out to the road. And way longer in time. Brendan's legs were running on 3 hours of sleep and he hadn't eaten much the prior couple days, so it felt even longer to him.
By the time we hit the main road, daylight was fading and we headed off to the hotel – which was like The Shining: big, old, empty. But it had a functioning bar….
Day 1 Summary
The good parts of the day were the weather, the fact that the covers hadn't changed much, and getting four flushes in 4 total hours – meaning we walked for at least 2 of those 4 hours, so that averages to a flush about every 30 minutes. So much for "no birds" in these parts!
The bad part was no shots taken, but we made up for that on day 2.
Category: 2010-11 reports, Hunt reports, PA, Ruffed Grouse, SBH