We were in Tennessee last week because we couldn't just let the ruffed grouse season peter out with a whimper. We're Serious man!
Honestly that's true, though the decision was easier because:
> Brendan lives in North Carolina, and the NC and Tennessee ruffed grouse seasons ran through yesterday.
> We had to get some footage in the can for the upcoming Serious Bird Hunting TV show.
So what were two bird-hunting addicts to do but…go hunting. Yeah buddy!
Jay flew down to Charlotte Monday night, and Tuesday morning we began our 3-hour tour into the Smoky Mountains. We've both hunted NC before (no birds, turns out we might have been too low in elevation), and Brendan had hunted TN before. So our hope was that we'd put up a few birds – and if we got real lucky, get them on camera.
Tall order? Uh, yeah. There's a reason you don't see much ruffie hunting on the tube….
The plan was to hunt Tuesday and Wednesday with no dog, then bring in someone with a dog to hunt our best spot or spots on Thursday.
Day 1
We got to the first spot we planned to hunt at about noon on Tuesday, our cameraman Steve ready to go. Nothing's flat in the Smokies, so our first spot was a draw that headed uphill, though at a fairly mild angle. It was a great spot for two guys to hunt: not too wide, steep hills on each side (soft edges), an old logging road that paralleled one of the steep hills and wet in the bottom (key!).
How did we find the spot? Brendan using Google Earth. In case you had any doubt, yep, it works.
If there's anything good about hunting such a vast area as the Cherokee National Forest – or hunting grouse there – it's that the potential good areas for grouse are few and far between. So in some respects they're a bit easier to find…but you never know for sure until you get your boots on a spot.
While we were getting mic'd up at the truck, we kept hearing bird calls from the creek bottom we planned to hunt. They were sort of turkey-like, sort of grouse-like, maybe even crow-like. We were voting for grouse, and wondering whether some crazy grouse action was about to unfold.
Mics on, Brendan headed into the creek bottom – where the noises had been coming from – and Jay got the easy walking on the road, an old logging road uphill/upslope from the creek bottom.
We honestly had no idea in which direction the birds might flush, but the road was somewhat open which meant it was a place where a video camera had a better shot of getting footage of a flush.
Six in 45
In the first 10 minutes we heard two medium flushes – not real soft, not full-on head-for-the-hills flushes. We were pretty stoked: birds!
Brendan was weaving toward and away from the road Jay was on, partly following the meandering creek, partly going toward blowdowns. From his one previous time hunting TN (not this spot), he found the birds like blowdowns.
Sure enough a bird got up out of a thick blowdown right in front of him. It headed toward the road, then saw Jay and veered away from the road, back into the creek bed up ahead.
It was so thick where Brendan was, he didn't even see the bird. Jay shot twice for TV (LOL!), but there was no way he was hitting it – and didn't.
We kept going, heard another couple flushes, didn't see any of the birds we heard. It was super thick (of course), and though the leaves were down on the hardwoods, there were many rhododendrons, all with big bright green leaves on them. With the moisture in the air and the fact that it wasn't too cold, it felt like we were hunting…don't know…Costa Rica or somewhere.
At some point Steve was between us as he transitioned from one hunter to the other, and bumped a bird. It looked a lot like the one Jay had seen get up about 10 minutes prior, and this time it flew right to left across the road. If there'd been time to drool before shooting, Jay would've done it.
Boom! The first shot was behind the bird. Jay remembers seeing the tail and the whole bird on that shot. But on the second shot he was looking directly at the bird's eyeball and had the gun fully mounted. The bird was maybe 20 yards out. He pulled the trigger with all the confidence in the world…but the @%#$*@ bird kept flying.
No midair stall, no flutter, no leg drop, no nothing.
Still, we spent a lot of time stomping around, trying to find or re-flush that bird. Nada.
Jay wasn't happy!
As we moved a bit higher in elevation, we lost the density we needed and got no more flushes. But in the first 45 minutes of hunting TN, we got six flushes, put up two birds and should've had one on the ground. We were happy (Jay not as much), and so was Steve.
Same-Type Stuff But…
We had two or three similar areas  (rhodie creek valleys) to hunt in the same general area – walking distance z- so we were psyched to get to those. But ended up we didn't see or hear another bird the rest of the day.
That was a bummer, but we knew we never found habitat as good as that first spot. That had everything the birds needed, and everything we needed to hunt them effectively. That's the key – finding birds that can be hunted.
We were looking forward to day 2.
More
> Anyone buy a license this way yet? On the way to hunting, in the truck. Have iPad will travel!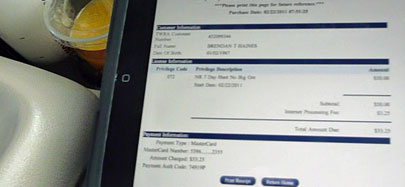 Day 2 hunt report details tomorrow!
Category: 2010-11 reports, Apple products, Hunt reports, Ruffed Grouse, SBH, Technology, TN