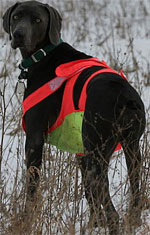 In the current era of "remote control" of hunting dogs – not that there's anything wrong with that – could it be that an even better way is…your face? That was the subject of an intriguing post by Wingshooting USA host Scott Linden. Excerpts:
> Think about what dogs see, especially from any distance. Not much, in the way of details.
> Well-bred bird dogs will key in on your body's most visible, brightest component: your mug…. They'll try to stay out in front of you, and they know it's the front because they can see your face.
> So how do you use this to your advantage? Look in the direction you want your dog to go. A cooperative dog will want to move to your front, keeping your face behind him. To change direction, just turn that way.
> And take off those dark glasses. Your eyes are not just the window to your soul, but the key to communicating with your dog. Try a few commands with glasses on, then after a bit, with them off. See if it makes a difference in your dog's willingness to obey and (more importantly) understand.
Pretty cool, eh?
Category: Dogs in general, Tips, Wingshooting USA