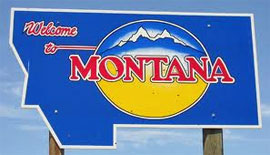 Sounds like biologists fear the wet Montana spring hasn't been good for upland birdies – but it might not be all bad for re-nesting pheasants.
Then again, you can't really know if it's bad or good until you're out there in the fall…and you're hunting no matter what anyone says because your Serious, right?
Anyhow, here are some excerpts from a newspaper article, as usual our comments in brackets:
> The cool, wet spring may [MAY] have dealt pheasants and some of the grassland grouse another bad hand.
> Nobody knows yet and the real proof won't come until harvest when farmers get a bird's-eye view from the seat of a combine [exactly!].
> But if this is a bad year for birds, this would be three years in a row of few or at least only spotty game bird numbers.
> "We are seeing lots of birds but not coming up with any nests yet," said Gary Olson, a wildlife biologist with Fish, Wildlife & Parks. "I cannot imagine [spring] was real positive. These extended wet spells are not good for birds. There are no insects because it is so cold and hatched birds must have insects right away."
> Diane Boyd, an upland game bird management program habitat specialist for FWP and an avid bird hunter, gets out a lot to exercise her German wirehaired pointers. "I have had my pointer out every evening and (she) has not found a bird nest yet," she said.
> The good news is that some birds — pheasants in particular — re-nest if they lose their first clutch. "Last year we had three different age classes of pheasants," Olson said.
> "In terms of birds that are nesting, the early ones I would wager we lost first nesting go around," Boyd said. "The good news is that with all moisture, the vegetation growth is phenomenal and there are a lot of insects."
> Even in bad years there are pockets for birds and you will always find somebody who had a good year no matter the overall bird numbers.  "We have made dire predictions before and things have come off great," Olson said. [Yep!]
Category: 2011, Forecasts/counts, MT, Pheasants