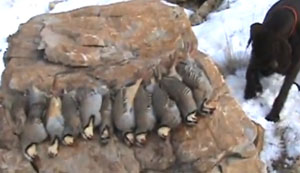 Have to admit one reason we bird-hunt is to get our butts kicked – and not just by the birds! Being wiped-out tired after a day of hunting is part of the fun, and that's one reason we really, really want to go out West after the wily ol' chukar birds.
A little daydreaming about that brought us to YouTube, and we ran across the following vids. Now that's some country! Hope you enjoy, a little motivation for the weekend for those of you who have ready access to birds….
Nevada (I think). Here's one with some cool scenery, enjoy walking the dog work. Younger folks, do NOT hold your gun barrel down because 1) it takes longer to raise it up/mount it that way, 2) you could shoot the dog.

Utah. NICE country. Looks tough, love it. These guys did well.

California. Can't tell how far the birds are because of the wide-angle lens, but that's some flush

Idaho. Not the greatest quality, but nice flushes and shots.