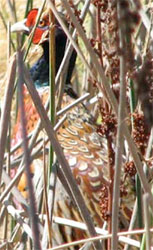 MN, MI, WA, Resolutions, Prison Birds
Pheasants are running for cover – okay, some are flying – all over the U.S. right about now, and here's a roundup of some of what's going on.
Minnesota's Brush Birds
As we've said here before, Bob St. Pierre, Pheasants Forever's marketing honcho, is a good writer and funny guy. Recently he posted a piece about Minnesota's opener that has some great, specific hunting info. Highlights:
> If you were listening to FAN Outdoors on Saturday morning at 7:45 AM, then you heard "The Captain" Billy Hildebrand share his hot pheasant hunting tip from three weeks of pre-season scouting: "The birds have been in the brush."
> The Captain, his two sons, friend Steve and I departed our trucks a little more than an hour after that statement was made on the radio across a five-state listening area. We were resolved to test the theory.
> [On opening day birds came from] "the backside of a willow thicket," a "patch of short willows" and "a small thicket along a cattail slough. "
> In total, our group of hunters walked three federally owned Waterfowl Production Areas (WPAs). It took most of the day, but we bagged our 10-bird limit behind some excellent dog power from Steve and Billy's brace of golden retrievers and my shorthair.  Of our ten roosters, seven originated from brush of some form. Cattail edges produced the other three birds in our bag.
> WPAs again proved their value to pheasants.  Please support the U.S. Fish & Wildlife Service's acquisition of these lands through the purchase of the Federal Duck Stamp.  Duck Stamp dollars are used to purchase lands that become WPAs, creating nesting habitat for ducks and fantastic habitat for pheasants to boot.
Good info!
Michigan Beefing Up Pheasants
"Wildlife officials…are launching an ambitious habitat restoration effort to resurrect the sport?" Read on. Highlights from this article:
> DNR wildlife chief Russ Mason said rural mail carrier surveys showed pheasant numbers on par with previous few years. Hunters who focus on brushy cover near corn or other food sources will have the highest chance of success. Those areas, however, have become less common due to modern farming practices and urban sprawl.
> Mason said a new Pheasant Restoration Initiative aims to revive the pheasant seasons by devoting large swaths of public and private land to the bird's recovery, then transplanting wild birds from South Dakota to jump-start the process.
> The Pheasant Initiative is an attempt by the DNRE, in partnership with Pheasants Forever, the Department of Agriculture and others, to focus funding and personnel on the problem by creating 10,000-acre blocks of habitat using public and private lands, Mason said.
> The focus will be a nine-county area that includes Huron, Sanilac, Tuscola, Hillsdale, Lenawee, Monroe, Gratiot, Saginaw and Clinton counties, although some work will be done elsewhere.
> "The thing we lack is good shelter next to food sources," he said.
Washington Outlook Not Great
Eastern Washington's pheasant season opened Saturday, and even though the outlook isn't great, no doubt some Serious hunters will be out. Some info from this post:
> The Columbia Basin [will offer] about the same numbers of wild birds as were taken last year, supplemented with releases of pen-raised birds at specific sites. [DNR] biologist Rich Finger said the largest populations of wild pheasant are likely found in the Desert Unit of the Columbia Basin Wildlife Area, between Potholes Reservoir and the town of George. Good numbers of mixed wild and pen-raised birds should be available in lower Crab Creek, Gloyd Seeps, and Dry Falls units.
> The state's best pheasant hunting has been found traditionally in the southeast corner, but this year's outlook is rated only fair to poor, according to biologist Pat Fowler. The reason is largely because of the long, wet, cold weather throughout the region during the peak of the hatch in late May and early June.
More: Pheasant Season Resolutions
We did say Bob St. Pierre was a funny guy, right? One of his recent posts was so good (and brief), we're lifting it entirely – which we believe Bob would be cool with:
I pledge to do the following during the 2010-2011 pheasant hunting season:
1) Take the time to pluck more pheasants than I breast and always save every pheasant leg.  Legs make great soup.
2) Follow my dog even if I don't believe there is a bird in the direction she's heading with a wagging tail.
3) Shrug off my missed shots like a pro ballplayer after a strike-out knowing he's going to hit a homer in the next at bat.
4) Always have my skunk kit in my truck, porcupine pliers in my vest, and a list of local vets in every town I travel.
5) I promise to speak up about safety and ethics in the field with my hunting partners.  Six people were shot in North Dakota during last weekend's opener.  That's appalling.
6) I'm going to take preventative measures to avoid leg cramps this season by drinking more fluids, eating a banana, and stretching before each hunt.
7) I am going to leave my Blackberry in the truck.
Bob's compadre in arms at Pheasants Forever, Anthony Hauck, is a funny guy too and recently posted this great "Rules for a Rooster Road Trip."
More: Prison Pheasants in WI
From this article, which obviously from this line – "pheasants are not among the geniuses of the animal kingdom" – was not written by a hunter:
> Last May, 3,400 pheasant chicks were trucked to the Oregon [town in WI] Correctional Center south of Madison where they grew from warming houses to small cages to larger pens under the watchful eyes of hawks, owls, cats and the two inmates paid to care for them.
> Inmates are paid to raise them as part of Wisconsin's annual restocking efforts. For much of the summer, Morrisey and Kelly [inmates] worked 12 to 14 hours every day. Morrisey earned 26 cents an hour while Kelly qualified for slightly higher hourly pay, 42 cents.
> Kelly and Morrisey said it wasn't difficult to find pheasants that had made a run for freedom [they were raised at a minimum-security facility!]. Pheasants are not among the geniuses of the animal kingdom and often those that managed to flee could be seen near their escape hatch waiting to come back in and eat.
> By the time DNR crews came to crate up the adult birds, about 400 had died or disappeared, leaving 3,000 from the Oregon prison to be released for hunting season. Some of the pheasants drowned in puddles during rainstorms, some were trampled by their pen mates, and others were found stuck at the top of the overhead netting with their heads missing, victims of turkey vultures, owls or hawks.
Category: 2010-11 reports, Hunt reports, MI, MN, Pheasants, Pheasants Forever, WA, WI