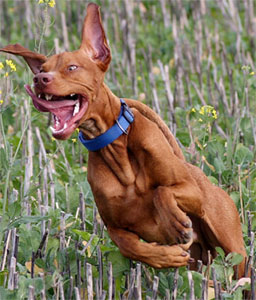 I (Jay) am as expert about dogs as I am about astrophysics – which is to say, I don't know much. But I'm learning as fast as I can. And since I'm in the market for a dog – or dogs plural if my kids have their way – I've read a bunch about the first step: finding a pup.
Including a recent article in the Memphis, TN Commercial Appeal newspaper about a guy wo's into the Field Trialing Bird Dogs scene. Below are some highlights – would you pick that dog?
> For retired Naval officer Garett E. Lockee, it's hard to explain the process he uses for selecting a dog that might someday make a run at the National Championship for Field Trialing Bird Dogs. So he sums it up like this: "I want a dog that's almost crazy."
> "All season long, during what most folks call the regular season of field trialing, dogs only run for an hour at a time. Then when they get to this national championship…they have to run for three hours. They need something extra." In Lockee's mind, a dog that's a little crazy during a one-hour run should have energy in reserve for the three-hour run at Ames.
> "I want that dog that covers lots of ground. I want that dog that's almost always right on the verge of being lost. Almost, but not quite."
> There are certain factors that all field trial enthusiasts look for when they're choosing a dog. They need good genetics — and they want proof of those genetics in writing. Many want a young pup that is healthy, feisty and domineering before he's ever removed from the rest of the litter. Others want the dog to have a certain X-factor…. Lockee's "almost crazy" syndrome is an example of an X-factor.
> Rick Smith's "physical freakiness" is another [X-factor]. "I want a dog to be the physical freak of the bunch," said Smith, whose entire Virginia-based family is famous for breeding and training field trial champions. "If you were scanning a group of high school athletes, looking for a linebacker, you'd want a physical freak — one who could do stuff the others just couldn't. That's what I want out of a national championship dog."
[This next part is interesting.]
> Smith said those dogs are the ones that seem to make birds appear from thin air. "If you get the athletic dog that can do the work and cover the ground, all the stars just seem to line up for that dog," Smith said. "From their very first season, they just stumble into birds. And from there, it's like they manufacture birds."
Well?
Since the dog(s) I get will have to double as family dogs, not sure if the X-factor freaks are in the cards, even if the breeder didn't already cull that pup from the litter.
What factors do you look for in a pup, if any? How do you choose? If nothing else, help educate me fellas!
Category: Dogs in general