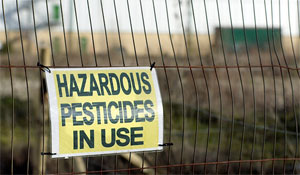 Holy cow! Next time you hunt farmland make sure a pesticide wasn't recently applied (maybe some of you check every time? let us know). Unfortunately, some South Carolina hunters weren't aware of a recent pesticide application, and four dogs – no breed mentioned – paid the ultimate price. Highlights from this article:
> A group of 13 hunters were out in Lee County Thursday afternoon when some of their dogs came in contact with the substance. It was later identified as the agricultural pesticide Temik, which health officials indicate can be harmful.
> Exposure to high amounts of Temik, specifically the active ingredient in it – Aldicarb – can cause weakness, blurred vision, headache, nausea, sweatin, and tremors in humans. The same symptoms apply to animals.
> Four of the dogs rolled in and ingested very high doses of the pesticide, which was fatal, causing paralysis to their respiratory systems. A local veterinarian in Bishopville continues to treat the remaining dogs.
> Dr. Brett Feder with South Carolina Veterinary Specialists explained that the hunters' dogs would have died from breathing failure.
> The health center also indicated three adults and one 11-year-old boy were admitted…the spokesperson said the patients left the substance in their vehicle. Nine other adult hunters arrived later in the evening. Staff worked to decontaminate the affected individuals, who are all expected to be all right.
> A spokesperson with the Department of Natural Resources said employees went back to the contaminated area to block it off and clean the area. The individual explained that the office is trying to figure out how the pesticide got there and see if there was any more of it.
More
> This reported more recently: Now there's an active investigation into the possibility that the substance was intentionally set. Investigators think someone possibly mixed the substance with dog food. [If so, not cool!]
> Also, from here: The Wall Street Journal reported in August that German drug maker Bayer AG would phase out production of Temik, a pesticide used on cotton, peanuts and potatoes, following a study showing the 40-year-old product doesn't meet food safety standards. Temik is also known as aldicarb and can only be applied by trained pesticide applicators, the WSJ reported, noting Temik was first used on cotton in 1970.
Category: Dogs in general, SC