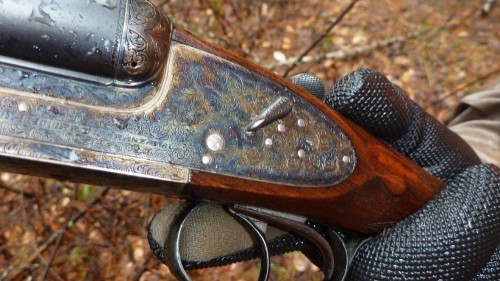 It's the offseason, time to work on shooting and try to plug gear holes. One such hole we haven't been able to plug in years of trying is waterproof gloves.
We hunt where it's wet, and we hunt in the rain and snow. Over the years we've bought and run through the wringer just about every so-called waterproof item there is. And we're glad to report that we're solid on boots, hats, pants and jackets. But we still can't find truly waterproof gloves.
Such gloves probably do exist, but we're talking waterproof gloves you can operate a shotgun with, and which can take some punishment.
We've tried waterfowling gloves, which you'd expect would fit the bill but they don't. They're built for folks who are hunting around water, not in direct, regular contact with it. Or they're just a camo version of the neoprene fishing glove (below). One example: These from Orvis fit great but are about as waterproof as your average sponge.
We've tried innumerable brands of deer-hunting gloves. None have been waterproof. In fact, some have been the least waterproof of any we've tested.
We've tried fishing gloves. Neoprene fishing gloves actually work great, but one brush against a bush and they're punctured. A whole day or two and they're shredded.
We've scoured hunt/fish stores in Minnesota, Maine and other chronically wet places where they'd for sure have waterproof gloves if such gloves existed.
Zip.
In other words, we haven't found a pair of truly or even largely (5 hours?) waterproof gloves that can be used for upland hunting. So we pack half a dozen pairs of gloves apiece, five of which are for wet days. And on those wet days, each of us use two or three pairs.
We're sure we haven't tried every brand of glove there is, so we're looking for recommendations. Have any? Let us know. We'll even get them custom-made if that's what it takes….
Category: Gloves