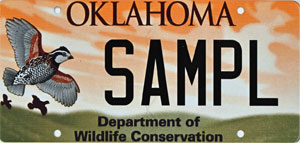 At its June meeting, the Oklahoma Wildlife Conservation Commission approved the OK Wildlife Department's fiscal 2012 budget, which includes "approximately" $1 million for quail research. Wow!
That $1 mil will be spent on "two important research initiatives intended to halt the long-term downward trends in quail populations across the state and the bird's native range. The research initiatives will seek to study all angles of quail mortality and develop management strategies that help halt decline.
The OK DNR will work with Oklahoma State University to initiate research and "intensive quail management" on two northwest Oklahoma WMAs. Areas of focus will include weather studies, implications of cattle grazing and prescribed fire, requirements for optimum reproductive success, and rates and causes of quail mortality.
"We're moving forward," said Alan Peoples, Wildlife Department chief. "We continue to refine our research principles and concepts with Oklahoma State University, and I think we're getting real close to what we foresee as long-term quail research needs."
The OK DNR will also be working with the Rolling Plains Quail Research Ranch as well as Texas A&M and Texas Tech universities on a project called Operation Idiopathic Decline. State biologists will trap quail and send them to Texas Tech, where they'll be studied for disease, parasitism, herbicides, insecticides and other issues.
Peoples noted that scientists will be focusing on the August-October timeframe "because that seems to be the window of disappearance — the Bermuda triangle, if you will." He's referring to the fact that quail seem to be doing okay in the spring, then disappear before hunting season.