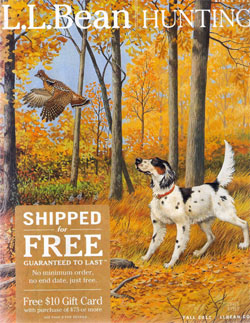 Well…sorta! Check out the cover of its latest fall 2011 hunting catalog. Not sure if everyone got this cover or just the bird-heads or what, but it's cool.
No secret that we're huge fans of Bean upland gear, and gotta say that we found a few must-haves/wanna-tries in this catalog.
We'll be testing out the new Technical Upland Cap and Gloves this season, and might have to be the year we try the Upland Vest Pack, to see if it's a better mousetrap than the ones we use now.
Brendan might also try out the Pa'tridge Strap Vest II because it looks cool and because of…the name: Pa'tridge!
On the want list are the Technical Upland Shirt and Ventilated Upland Shirt.
Just a reminder to order the Gore-Tex Upland Field Pants soon in case they sell out like happened last year, and the Technical Upland Pants for warmer, drier hunting. The cut and material of these pants will help your legs a ton.
Season's coming – woo-hoo!
Category: Clothing, LL Bean, Ruffed Grouse, Setters