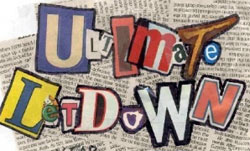 We get forwarded this email from Field & Stream that says it has a link to the Ultimate Bird Hunting Shotshell Guide. We're skeptical of all such claims, but decide to check it out because, hey, we hunt birds! But we're fully aware that these things are worded to get us to click, and might not have the beef….
Turns out to be one of those super-annoying galleries – you know, instead of an article, you have to click through a bunch o' pages (in this case 16) to see the whole thing. Readers don't like it so why do they do it? It jacks up their web stats!
Anyhow, we saved you the trouble – and it's definitely more trouble than it's worth. We're assuming the guy doing the recommending, F&S writer Phil Bourjaily, knows his stuff, but ultimately this is more of an opinion piece than facts, as it would be for anyone…to a point.
Plus, in our opinion using "upland birds" as a catch-all for shells for any and all non-pheasant upland chickens doesn't make sense. For example, good grouse and quail shells can overlap, but it's definitely not a "one shell fits all" situation.
Here's the order of the slides:
intro
geese
turkeys
budget geese
ducks
ducks runner up
ducks long shots
pheasants
pheasants runner up
pheasants non-tox
upland birds
upland runner up
upland non-tox
turkeys runnerup
turkeys budget
And here are the chicken-related recommendations with our comments in brackets:
Pheasants
Best
B&P MB Long Range
> 2 3⁄4″, 1 1⁄4-oz #5s, 212 pellets, 1330 fps
> Average price: $12 for 25 [just say a box!]
Runner Up
Fiocchi Golden Pheasant
> 2 3⁄4″, 1 3⁄8-oz #5s, 234 pellets, 1250 fps
> $17/box
[We've used B&P shells and they're great, but we can't see Golden Pheasants being second to any shells. In fact, we'd have a hard time having just one winner. We can think of at least 3 shells that should go in that slot – in our opinion….]
Non-Tox Winner
Kent Tungsten Matrix Waterfowl
> 2 3⁄4″, 1 1⁄4-oz #5s, 196 pellets, 1400 fps
> $37/box (10)
Quote: "The pellets, made of powdered tungsten blended with polymer, hit birds hard but are soft enough not to damage old barrels, and they respond to choke very much like lead. They even give way beneath your molars if you bite one at the table" [don't do this after a couple drinks….].
'Upland Birds'
[And pheasants aren't?]
Best
Winchester AA Heavy Target
> 2 3⁄4″, 20ga, 1-oz #7.5s, 350 pellets, 1200 fps
> $10/box
[Definitely good shells, but #7.5s split the difference between #7s and #6s for bigger "upland" birds and #7.5s and #8s for smaller ones.]
Runner Up
Federal Wing-Shok Quail Forever
> 2 3⁄4″, 20ga, 1-oz #8s, 410 pellets, 1165 fps
> $23/box
[Great shells for quail or for anyone who likes #8s.]
Non-Tox
Federal Field and Range Steel Game and Target
> 2 3⁄4″, 20ga, 3/4-oz #6s, 236 pellets, 1425 fps
> $8/box
Category: Ammo/shells, B&P, Federal Premium, Fiocchi, Kent Cartridge, Non-lead, Winchester Ammo