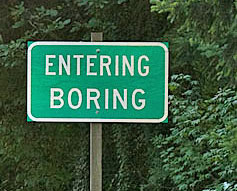 Ruffed grouse hunting is about as exciting as watching paint dry, grass grow or – maybe a little better – making donuts.
Of course that's not true, but apparently a lot of hunters think so, especially when compared to sitting up in a dang tree all day hoping for a deer to walk by. Now THAT's exciting.
Why are we on this? The MN DNR recently revealed that while 2010 was the peak or near the peak of the state's ruffie population, the number of ruffie hunters wasn't nearly as high as it was around the last peak. Here are the numbers:
> 466,000 birds taken in 2010, a 30% increase over 2009 and the highest in 10 years
> 92,000 hunters, a 6% increase over 2009
> 2010 hunter numbers were the same as in 2006, which was the highest number since 2003
> Nearly a million birds shot in 1998 (the last ruffie population peak), 142,000 hunters in the field
> If our math is right, there were 35% fewer hunters in '10 vs. '98
"The (hunter) numbers did come up some from the previous year, which is a good thing, but they're certainly well below what we've historically had during the high (grouse) numbers," Steve Merchant, forest wildlife program consultant for the DNR, told the Duluth News Tribune. "That remains discouraging. We still have a long way to go."
The question then is what it takes for hunters to get stoked about grouse hunting. After all, in 2010 those numbers work out to be 5 birds per hunter, vs. 4.1 in 2009 – the best rate in the country, according to MN.
Thoughts?
Category: MN, Ruffed Grouse