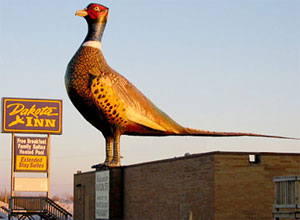 If you've perused any photos of South Dakota, no doubt you've tripped over at least one of the world's largest pheasant, all 22 tons of it.
It's in Huron along Highway 14, right by the Dakota Inn. (Yes we do want to stay there one day and hopefully tip back a Rooster Lager for a pheasant-philled photo op.)
Well, seems that the World's Largest Pheasant had gotten a little ratty over the years, what with it getting bashed by sky-blackening hordes of pheasants every year, so Huron residents ponied up some cash to get it back to its former glory. Here's more info, from this article:
> "He weighs 22 tons, 28 feet long and he actually stands at 40 feet tall because of the building he stands on," explained Dick Werner, chair of the pheasant's restoration committee.
> "He had sustained a lot of damage, both natural and unnatural,"said Werner. "Pigeons had taken over our bird, so we decided it was time to get fixed up."
> With $20,000, the help of a local artist, an airbrush and some fiberglass patching, the Huron Pheasant looks better than it did in 1959, so says Paul Flanangan, who recalls the christening as a memorable experience. "If I recall, Joe Foss and George McGovern were christening it from a helicopter and they must have gotten it done," said Flanagan.
> "This is our landmark,"said Werner. "Mitchell has the Corn Palace, the Black Hills have Mt. Rushmore. We have the pheasant."
> "We still look at it every time we go by,"said Beverly Peck. "You can't help but not look at it." [Our favorite line of the article!]
> Officials say the pheasant cost $23,000 to build in 1959. Today, it's worth more than $75,000.
Are you listening, towns in Kansas and Colorado? And how about some giant grouse, Pennsylvania, Maine and MN, MI and WI?
More
> And here, btw, is the legend of Huron's giant pheasant.