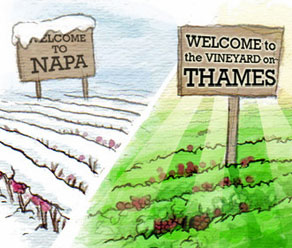 Regardless of whose theory you buy or what label you want to put on it, weather patterns are changing. Don't think anyone can say how long that'll last, but in the short term one effect of it – which also happens to be a symptom of a generally warmer climate – is more precipitation.
For us bird-heads, that's meant more rain in the spring, which has put the whammy on birds. We're not biologists, but from what we've read seems that more rain means wetter chicks during the period when they can't regulate their body temps, which means more dead chicks. Hens re-nest later if they re-nest at all, but it's not optimal.
As an example, here's a note we recently got from a fellow Serious hunter about Wisconsin:
Last year…our group had over 100 flushes. This year, less than 15. That is what a very wet and cold spring will do to the numbers. We have bagged fewer than 20 grouse this year whereas the expectations were three times that.
Then there's the snow in the winter, that has hammered pheasants (and bobwhites) in many west-of-the-Mississippi states, notably Iowa.
Where does that leave us…and the birds? Don't know, but here's more on the weather in general and grouse specifically, taken from Minnesota's recently published draft grouse management plan:
During the next 100 years average temperatures in Minnesota are projected to increase by 6-10 degrees in winter and 7-16 degrees in summer. Precipitation is projected to decline by 0-15% during summer but increase 5-30% overall.

The frequency of extreme precipitation events is projected to increase 50-100%, which will result in greater surface runoff and less percolation into the soil. Increasing temperatures and declining soil moisture during summer will have dramatic effects on plant communities.

Vegetation patterns are expected to adjust in response to climate change. A shift in the boundary between grassland and deciduous forest biomes is likely. Tree species composition in forests will change.

Several climate change models predict warmer, drier conditions for existing deciduous forests. Under this scenario, if managed with fire, deciduous forests will tend toward savanna types (fire-dependent hardwood systems) and the range of mesic (moist but well-drained) hardwood forests will likely contract. If not managed with fire, these areas will likely become brushlands or become dominated by non-native woody invasive species.

[Two scientists] predict expansions of oak-hickory and oak-pine forests (fire-dependent drier forest types) as well as reductions in aspen/birch forests (a mesic hardwood type).

Climate change will be beneficial for some species, but is likely to be detrimental for many species. Ruffed grouse are likely less sensitive to climate change than habitat specialists such as spruce grouse.

Nonetheless, areas of vulnerability include the potential changes in aspen/birch forests, less snow depth [less?] for winter roosting and more frequent and extreme rain events that affect chick survival.
Just one state and one species, but doesn't sound too great, does it?
Category: Pheasants, Quail, Ruffed Grouse, Spring, Weather, Winter