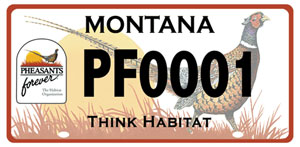 Doom and gloom. That's all anyone heard about Montana's birds earlier this year. But turns out now that hunting season is here (opens Saturday), things aren't as bad as they once seemed. Dang forecasts!
Here's the skinny, excerpted from a great article in the Great Falls Tribune. It can be summed up in one word: re-hatch (is that a word?):
> Montana's pheasant season opens Saturday and the news is better now than it was in late spring and early summer. The forecast for bird numbers was gloomy back then when late snowmelt and rain flooded many nesting areas. But those predictions have given way to a slightly rosier picture based on reports from the field, especially in north-central Montana.
> "Things are looking a little better for pheasants — it has gone from grim to not so great to maybe a little below average," said Diane Boyd, an upland game bird habitat coordinator for Fish, Wildlife & Parks. "It seems like the hatches this year were very late so the seeing of coveys of pheasants has also been later than usual. Many of the birds are small and may not have any color on the roosters by opening day.
> "I didn't see any broods until the end of July or the first of August," said Gary King, a director with the Central Montana Chapter of Pheasants Forever. "Now they seem to have had a wonderful renest that was more successful than I had heard. I have seen clutches of seven to nine birds."
> King said that since the beginning of August the pheasant numbers seem to have gotten stronger almost every day. During a youth pheasant hunt last weekend near Denton, hunters flushed about 200 birds.
> "If you had winter cover you are going to have a lot of birds. The rehatch in central Montana was good."
> The unusually heavy precipitation through most of the summer generated exceptional grass cover and good insect production, which is important for chick survival. Pheasants should be broadly distributed throughout this excellent cover, so finding the birds will be more challenging for hunters too.
Eastern Montana
> In FWP Region 6, pheasant numbers are expected to be below average, particularly in areas that lack good winter cover. FWP biologists expect pheasant numbers to be below average particularly in the Havre and Malta areas, well-below average in the Glasgow area, and near-to-slightly below average in the Plentywood area.
> FWP biologists say that in FWP Region 7 pheasant numbers are expected to be below average in the southeastern part of the state. Winter conditions were harsh and lasted for several months, significantly impacting winter survival. This spring the weather was extremely wet and cool, which impacted nesting and early brood rearing.
Southcentral Montana
> Pheasant numbers in southcentral Montana [will be] below average to average at best. Because pheasants will frequently renest in early summer [this] may have helped offset some early losses. Also, the damp spring produced plenty of tall vegetation in southcentral Montana providing cover from predators that could have aided chick survival.
Southwest Montana
> FWP Region 3 experienced a long, cool spring with heavy rain during the time of early hatching, but excellent brood conditions after early June. Pheasant hunters should anticipate slightly below average populations comparable to last year.
Western Montana
> Pheasant numbers are expected to be near average. Pheasant habitat is limited in FWP Region 2, so populations are small relative to other parts of the state.
Northwest Montana
The pheasant harvest in northwestern Montana was about 65 percent of average in recent years. This year pheasant hunting is expected to be limited further by rainfall and cold weather during the pheasant hatching periods. The result is likely a significant reduction in productivity.
And…
Rick Northrup, state game bird coordinator, told the paper, "Statewide pheasant hunting opportunities are expected to be spotty throughout Montana this year." Sounds like bird hunting to us.
Once again we'll say that if you're Serious, if you live for chasing chickens, you'll be out there regardless of forecasts and counts…and how accurate they may or may not be. Have fun!
More
> Since hens re-nested late, young birds may not get fully colored until later in the season. Montana's pheasant season runs through Jan. 1.
> Sharptail and Hun hunting has been average," Boyd said. "There hasn't been much up north but it gets better away from the Canadian border. If you cover some country you should have shooting opportunities. Having good dogs really ups the odds of bagging birds."
Category: 2011, Forecasts/counts, Hungarian partridge, MT, Pheasants, Sharptailed Grouse