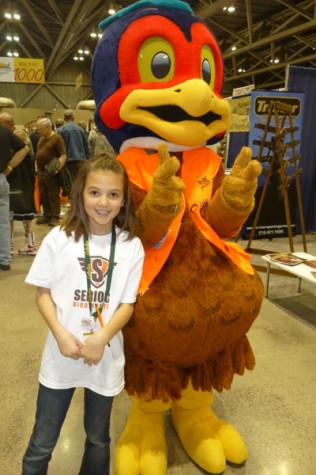 by Jay
Well, if you weren't there, you missed it. Seriously. Pheasant/Quail Forever's Pheasant Fest and Quail Classic in Kansas City, MO was what you, a Serious bird hunter, wish every hunting and outdoor show would be.
Namely bird-focused, full of like-minded and nice folk talking about dogs, guns and that kind of stuff, and chock full o' bird dogs. Dogs and puppies in booths and lots of folks walking around with their personal bird-chasers. (Btw, it's apparent that the German Shorthaired Pointer is no stranger to KS and MO hunters….)
With that in mind, here are some notes, observations, whatever from the Fest. More coming this week and maybe next.
Seminars
One of the greatest things about Pheasant Fest is seminars – or if that sounds too stiff, talks. Talks of the educational kind. In fact, if you're planning on attending next year (and you are, aren't you?), I highly recommend you first sketch out your seminar schedule. They're that good, and while the show/booths will be there all 3 days, you might only have one or two chances to hear a particular talk.
If you followed along on Facebook, I brought my 8-year-old daughter this time. Wonderful to do that, but the odds of getting an 8-year-old to sit through one talk let alone multiple ones are slim…or actually, none.
While keeping one eye on my daughter, I did manage to sit through two talks given by wild game food guru Hank Shaw. If you don't know him, Hank writes the truly excellent Hunter Angler Gardener Cook blog. Guess I shouldn't have been surprised: His seminars were, in a word, phenomenal.
Seriously. Will try to do them justice in a future post.
When it came to the many-times super-crowded dog-training seminars, I knew it'd be too much for my daughter so we didn't go. Still bummed about that because I know I'd be smarter right now if I did.
I can't emphasize enough how valuable and interesting these seminars are – and they're all targeted to bird hunters! I mean, I like to fish as much as anyone, but when's the last time you were at a show with dozens of seminars just about upland stuff?
Show
The two consecutive years I've been to the Fest I've seen the same mix of booths: dogs, dog stuff, guns, ammo, tourism, outfitters, ag stuff and miscellaneous "other" – but all, again, in some way tied to the upland world.
My daughter was there mostly to see dogs, so we made a beeline for Bird Dog Alley…but there wasn't one. There was one at the 2011 Fest, an amazing tour through different breeds. This time the dog booths were spaced out, probably for some good reason, but I'd love to see the Alley come back.
The bottom line was there was no shortage of stuff to interest any bird hunter.
Have to mention that the Pheasant Fest also is a great place for kids. Rudy's Youth Village (Rudy is PF's sports-team-like mascot) was an amazing place for kids of various ages. Arts and crafts galore plus two video shooting stations, a BB shooting station and archery shooting.
My daughter said he liked that and the dogs the best (naturally), but also like other kids got all kinds of stuff thrown at her – sometimes literally. One time she left the banquet briefly (I was watching!) and came back with a Pheasants Forever hat someone tossed at her. She was thrilled.
Don't think I've ever been to an outdoor show that was as kid-friendly as this one. Huge props to PF for that.
Other
Some misc observations and whatnot:
> The Fields brothers' Roosterwear brand had a bunch of new offerings that were selling like hotcakes. One you need to know about is the long-sleeve wicking shirt in blaze orange. For some reason these are hard to find. Don't know anything about Badger-brand stuff, but if it works as advertised, it fills a need.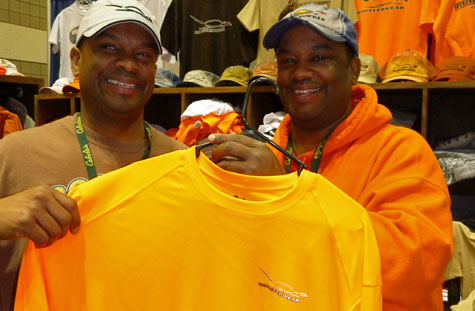 > The amazing engraving and scrollwork in the Facebook photos was done by master engraver Geoffroy Gournet. See more on his work here.
> The fancy hunting (maybe?) duds in those photos are made by Ermilio Clothiers.
> I'd never been to Kansas City before, great place. I'd call it a "small town," but I guess it can't be with two major sports teams. Clean city, good food, nice people – sounds like most places off the coasts…. Love to go back.
Coming Up
> Some info on the Hank Shaw seminars (we should all be hanging our birds?), and hopefully more on the two guns I "discovered" at the Fest and just may own….
Category: Pheasant Fest, Pheasants Forever, Quail Forever, Rooster Wear