Recently Perth, Scotland acquired a new grouse – it's 49 feet tall and weighs 1.5 tonnes ("es" = metric tons). How cool is that?
The sculpture was commissioned to celebrate Perth 800, a year-long celebration marking the 800th anniversary of the granting of the Royal Burgh Charter to Perth by King William the Lion in 1210. Wow – 1210!
According to the official press info, the giant grouse was chosen as a symbol of Perthshire and has been gifted to the people of Perth by the makers of The Famous Grouse (scotch), The Edrington Group. (We're no scotch experts – prefer bourbon – but that scotch is pretty good.) The grouse statue was unveiled in late November "at one of Scotland's major road junctions, the Broxden roundabout, in Perth, Scotland."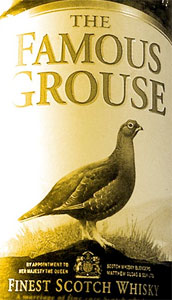 Why Perth? "Perthshire is renowned for being home to over half a million acres of the most magnificent grouse moorlands, attracting visitors from all over the world every year." Hmmm. Must check passports.
More
> The sculpture, called The Grouse (naturally), was created by Ruaraig Maciver from Beltane Studios, Peebles (as in Magilla Gorilla?!). Maciver said: "I have tried to ensure this is an accurate depiction of a real grouse taking flight and I am very pleased with the aesthetics of the sculpture. As Scotland's national gamebird I know it is well-loved across Perthshire and Scotland, so I hope it is something everyone can appreciate and be very proud of." [We need a national gamebird…not the turkey.]
> Statue factoids:
– Total height = 49 ft = The Grouse @ 21 ft + The Column @ 28 ft
– Width of the main body = 4.9 ft
– Wing to wing tips = 38 ft
– Tip of beak to tip of tail = 56 ft
– Weight = 1.5 tonnes
– Materials = The Grouse and the column are both made of steel and galvanised in zinc. The sculpture is made from over 2,700 linear feet of steel, and 8,000 welds were involved in the construction.
> Useless but true: The Grouse sculpture is estimated to be the equivalent of approximately 2,500 times the weight of a real red grouse, and 37 times its height.
> There are approximately 50 areas of moorland in Perthshire, equating half a million acres of land.
> The grouse shooting industry contributes GBP23 million to the annual Scottish economy. Of that Perthshire accounts for around 20%.
> The red grouse was the inspiration for Matthew Gloag when he created The Grouse brand in 1895. He created a whisky that would appeal to the hunting, shooting and fishing fraternity drawn to the Perthshire moorland.
> The Edrington Group, is a private Scottish company controlled by The Robertson Trust. It owns some of the world's leading whisky brands: The Famous Grouse, The Macallan, Highland Park and Cutty Sark – also Brugal, one of the largest international rum brands.
Category: Red grouse, The Famous Grouse whisky, UK