Every gun (and ammo) manufacturer that should have been at Pheasant Fest wasn't (that's a hint for all you slacker manufacturers…). But of those who were there, the following guns got my attention and here's why:
A-10 American: Dang!
Like you, I've seen ads for the Connecticut Shotgun (CTS) A-10 American in magazines, but there's no way to tell from drool-worthy photos what a gun will feel like buried in your cheek. Let me tell you: these guns are niiiiiiiiiiice.
Nicely balanced, sweet-looking – I was having a minor love-fest with a 28ga O/U. Lou Frutuoso from Connecticut Shotgun kind of had to pry it out of my hands. Hopefully I left no drool on the stock….
Seems the big deal about the A-10s is that they're affordable sidelocks, at least compared to their European counterparts. Sidelocks are "the very highest form of the gunmakers art," according to CTS, but affordable is in the eye of the beholder – and the gun I was getting a crush on was a lot closer to $10K than $1K.
(This is why I leave my NJ firearms permit – which us lucky NJ residents need on hand to by a long gun anywhere – at home….)
I also have to say that I view shotguns as tools…sort of. Meaning I could care less whether the gun is a sidelock, boxlock, airlock or padlock – I just want it to feel balanced, carry light and send pellets where I'm looking.
That said, I love dark, figured walnut on a gun. Engraving on the receiver I can take or leave, but that dark wood makes me feel like this: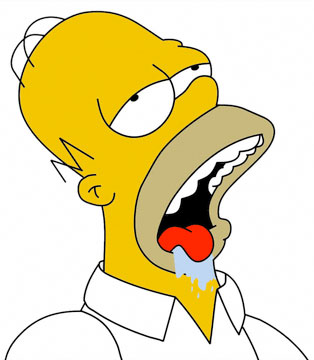 Mmmmmmmmm…A-10….
I might "need" one.
If you want to know more about these guns, click here. I'm trying not to learn more about them for now….
> One more thing: I don't hunt with a SxS, one reason being that SxS forends typically are too small for me. Just feel weird. Plus I prefer to have one trigger. But Lou put an RBL into my hands and whoa…the beavertail forend was super comfy. Pointed well, a nice gun, though since I'm not a SxS user, you uber-traditionalists (Brendan!) will have to decide for yourselves this one on. Might be yet another "need!"
Beretta 20ga SPV
Brendan has one of these guns, a 20ga Silver Pigeon Grade V, 28″ barrels. I don't know what it is about this exact model of gun, but to me it looks, feels and shoots absolutely great.
I feel confident saying that now because even though I've fondled and lusted after Brendan's gun, I wasn't sure if he just had a pick of the litter, a random "good one" or what. At Pheasant Fest, I shouldered the same model and gauge gun, and if anything it felt better than I remembered Brendan's did.
Crap. Now I'm going to have to find one of these. And no, they're not too pretty to hunt!
Benelli 20ga and 28ga Legacy
If I'm not the last guy who'd want to hunt with a semi-auto, I'm for sure near the back of the line. Just not my thing. I like break-open two-barrel guns, the look and function.
But I was convinced to go the Benelli booth and shoulder a Legacy model in 20ga and 28ga. I found it…very light, and surprisingly balanced for such a light gun. I kept shouldering it like the previous time I shouldered it had been a fluke – it wasn't supposed to feel that good. But it kept coming up the same.
Did I mention it was light: 5.8 pounds for the 20ga and an amazing 4.9 pounds for the 28ga. Jason Evans of Benelli quickly noted that for every 2,000 steps you take in the field – how many steps you reckon are in a mile? – a 1-pound difference equals 1 ton.
Dang, he's right! (Another argument for bird packs over vests…if you don't overpack your pack.)
So, am I curious enough to want to take one of these guns hunting? Yes – and not because it gives me one more shot. Honest.
Tomorrow – PFest Ammo: 'I did not know that'

Category: Benelli, Beretta, Connecticut Shotgun, Pheasant Fest, Pheasants Forever