Part 1
Who says you can't find pheasants on public land? After Pheasants Forever's recent Rooster Road Trip (RRT), the answer should be "nobody."
In case you missed it, the RRT was PF staffers Bob St.Pierre, Anthony Hauck and Andrew Vavra driving 2,200 miles in 6 days to hunt five states: North and South Dakota, Minnesota, Nebraska and Kansas. That's Serious bird hunting.
We chased them down for an interview about the experience – sounds like they had a good time, learned a few things…and still like each other. Enjoy!
SBH: What prompted this trip this particular year? Don't you guys get to hunt enough – you work for PF for cryin' out loud!
Bob: Andrew brought Pheasants Forever into the age of social media and Anthony took it to the next level with the Rooster Road Trip concept. Add the largest pheasant audience on the planet (PF's Facebook page) and the hook was that we did all our hunting on public land.
At the Pheasants Forever offices, we always hear folks saying there aren't birds on public land. The Rooster Road Trip set out to dispel that myth and give a little insight into how to find success on public land.
Driving 2,200 miles in 6 days to hunt 5 states has to be some kind of record. Would you ever do it again – if you didn't have to do it again now that you've done it once?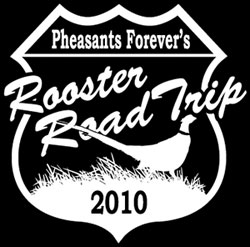 Bob: In retrospect, hunting that many different states in such a short time was a huge challenge that we didn't fully comprehend going into it. Two things made it VERY tough:
1) Of the five locations we hunted, only one of them was familiar to us (Anthony grew up near where we hunted in Minny). We hunted the other 4 specific locations of those states sight unseen with a little input from our field rep in each state.
2) We were too light on dog power. A pheasant's first instinct is to run rather than fly. So with one pup and one seasoned bird dog for three guys on public land, it was a challenge to find birds. Thankfully, our shooting percentage turned out to be pretty darn high for the roosters we did flush.
Anthony: Would I do it again to profile the habitat and hunting on these public places Absolutely. But on my own time – I want to go to these areas and spend multiple days going at a more "leisurely" pace!
Andrew: That trip was 2,200 miles of pure bliss (for the most part). I'm already looking forward to next year's adventure.
We've found that on lengthier hunts like this – 6 to 7 days instead of a day here and a day or two there – we learn much more about birds and gear. Was that your experience and what did you learn?
Bob: In my opinion, we proved the value of dogs to pheasant hunting. I think Anthony, Andrew and I are equally skilled hunters and shots. However, I shot 12 roosters on the trip, Andrew shot 4 and Anthony shot 3 birds. I owned the 3 1/2-year-old shorthair, Andrew had the 7-month-old yellow Lab, and Anthony hunted behind his imaginary pooch named Mooch. When you're hunting wild ring-necks, dogs are a necessity.
Anthony: Even living here in the Midwest, it's easy to forget how different it all is, those nuances of the landscape. North Dakota is nothing like Kansas, and Nebraska is nothing like Minnesota. From the Prairie Potholes of the upper Midwest to the openness of the Plains, a wingshooter could spend a lifetime merely getting acquainted with the region.
Andrew: The big thing I learned was to trust my dog's nose and not get frustrated when fields don't produce. You may have a bust of a morning, but if you keep putting one foot in front of the other you might walk into the best afternoon of your life. Another thing that was made brutally clear was that you should pack the amount of water you think you need and then add another couple of water bottles to it. It's hard to stay motivated when you and your dog aren't properly hydrated.
More
> To get the full Road Trip experience, click here to head on over to PF's RRT page.
End of part 1 of 2
_____
Replace "Day" with "Road" – you get the idea.