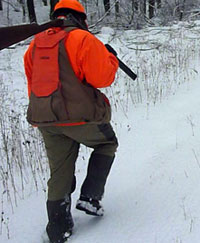 Did you see the article titled "Cold Weather and Shotshells" in the Nov/Dec issue of Shooting Sportsman? Interesting stuff. Makes us think we really need to pattern our guns when it's cold out. Never thought to do it.
Here are some quotes…and check out that cover below. Does that Lab look huge or what?!
> The later in the season it gets, the farther away upland birds tend to flush and the poorer waterfowl tend to decoy. The result is taht the avergae distances of shots…are signficantly longer….
> "All shotshells…shed velocity and pattern density quicker as the temperature drops and the atmosphere becomes denser.
> If the projectile is deformed…it will diverge from the point of aim at an ever-greater angle the denser the atmosphere becomes.
> It is [also] true that as temperature drop, primers and propellants do not generate as much energy in the closed space of a shotshell load.
> As a general rule, I have always found patterns rom an IC choke open up more from the effects of cold than those from a Full choke.
> Are these declines in downrange velocity and pattern quality important? For a hunter, any decline in pattern quality is much miore important…than is a small decline in velocity.
> When the temperature falls for 20 degrees F [vs. 70 degrees], these same shells through these same gun/choke combinations often become sub-lethal in pattern quality.
> As a gross rule of thumb, a #4 lead pellet at 20 F behaves about like a #5 pellet at 60 F.
Good article. What does this mean for cold-weather pheasants, #4s and #2s? And for cold-weather grousing, #6s and #5s?
Anyone already do this?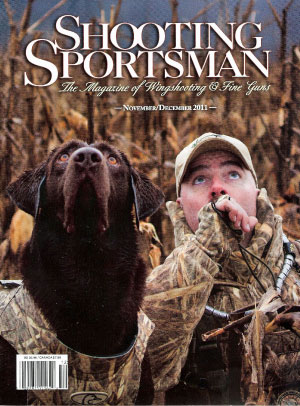 Category: Ammo/shells, Shooting Sportsman, Winter