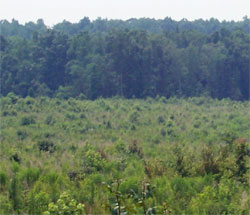 A forester, landowner and tree-farmer in CT named Jim Gillespie recently wrote in to the Litchfield County (CT) Times newspaper about what many grouse and woodcock hunters – including the Ruffed Grouse Society – have been saying for years: Cut trees! It's all good!
Some choice excerpts from the piece, titled In Defense of Clear-Cutting:
> Since 1995, I have actively managed my forest to grow new seedlings. More than 600,000 trees have started growing in clearcuts that have been protected from deer by constructing solar-powered temporary electric fences. In a given area (three to 35 acres) all trees two inches in diameter and greater are cut, with the larger ones utilized for firewood and timber. The hardwood forests have responded to the increased sunlight that favors the hardwoods, especially oaks. The oldest clearcuts (15 years) contain trees up to 10 inches in diameter and 40 feet tall with oak (red, white, chestnut, black), birch (black, yellow, white), hickory, tulip, ash, sugar maple, red maple, basswood and understory shrubs/small trees (serviceberry, blueberry, witch hazel, dogwood).
> The density is high (6,000 seedlings/saplings per acre after five years) and the trees are straight and growing to the sun. A diverse mix of wildlife use the young forests including ruffed grouse and woodcock (species of special concern), neotropical songbirds (scarlet tanagers, warblers, vireos, bluebirds), and raptors (red-tail hawks, turkey vultures, bald and golden eagles) feast on the rodents. Wild turkey, fisher, otter, black bear and deer (after fences removed—five years or so) flourish in the young dense forests for food and cover. The property was selected as Tree Farm of the Year 2004 for all of Connecticut for the high standards of stewardship.
> Connecticut has over 1.5 million acres of commercial forest and has maintained about 60 percent forest cover in recent decades. At the turn of the 19th century, Connecticut was about 24 percent forested due to many areas cleared for farming. The [current] young forest proportion is very low (less than 10 percent) and needs to be increased for the benefit of wildlife, birds and new tree growth.
> A hidden industry of foresters, loggers and sawmills exists in Connecticut, adding employment, tax revenue and locally grown products. Clearcutting of forests for forestry purposes is desirable and provides many benefits as described above.
> The timber of Connecticut is sought after in worldwide markets, and local products should be utilized whenever possible for construction projects, from barns and outbuildings to flooring and firewood. An influx of foreign-produced lumber is coming from Russia and Asia that has been harvested and manufactured under much less strict standards (environmental and labor) than the United States, and the consumer should be made aware of this and demand their wood products be obtained from local U.S. producers. Using U.S. forest products…reduces environmental impact (higher forestry standards and less transportation costs) and provides much needed economic stimulus in the areas that are particularly suffering now—manufacturing and agricultural workers.
> So when you see trees being cut in Connecticut, rest assured the operation is well run and a benefit to the environment and local/regional economy. Please seek out local wood producers and utilize the high quality products made by nature right in our own backyard! And remember, forestry clearcuts are good for the forest and for the wildlife!
Amen!
Category: CT, Forest Management, Ruffed Grouse, Woodcock